Dear WB, put a sock in it, willya? The megalithic movie studio has now suddenly issued Indian producers a notice saying they have no right to remake one of their movies. Stern action, they promise, will be taken.
Now, it's all very well to try and put the fear of Fraud into Bollywood's nonchalant plagiarists, and heaven knows we could use the threats. We routinely adapt DVDs, and while there was some buzz of Zinda being justifiably sued by the Oldboy team or Partner getting into trouble for Hitch-ing it, nothing has happened yet, and we really need some policing.
Last year's 'adapted' screenplays included Dil Kabaddi, a remake of Husbands & Wives that hits a new low -- clearly even the art-house and indie bunch of actors and filmmakers are now filching lives from DVD libraries. (For more on the worst of last year, check out the first annual Golden Banana Awards).
Yet Warner Brothers has no business opening its gold-plated mouth, because their pre-emptive legal notice is about the possible copying of The Curious Case Of Benjamin Button. I respect director David Fincher a great deal, but how in the world can they pretend to protect intellectual property when it isn't even theirs to shield? The Curious Case is a blandly basic yet visually spectacular remake of F Scott Fitzgerald's 1921 short story of the same name, and last I heard, Vipul Shah, Akshay Kumar and I all have as much right as WB has to that concept. (Clearly I'm getting addicted to link-sharing in parentheses, but here is the *copyright-free* text of Fitz's quirky fun story.)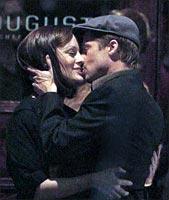 Now, about originality, Warnerites, I have such a bone to pick with you goshdarned Americans. (While we are on WB, picture this article rolling up its sleeves like a furied Elmer Fudd in a Looney Tunes cartoon, descending on the fatcat American motion picture studios.) Honest to goodness, when we here in India heard that the major American studios were coming to make films in India, we were thrilled. Seeing as Bollywood remains poised on a potential revolution in terms of content, we thought the arrival of big-ticket studios from the West would usher in a new era of professionalism and quality. We felt our films would finally get that fillip into the realm of blessed budgets and bound-scripts, of polished perfection and prompt payments.
So we sat gleefully and waited for what the Americans would serve us.
Sony Pictures gave us Saawariya. Walt Disney gave us Roadside Romeo. Warner Brothers gave us Saas Bahu Aur Sensex and Chandni Chowk To China.
What the hell?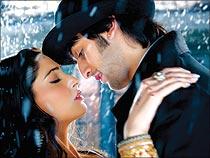 What happens to the executive cogs of the infallible studio systems of the West when they step into India? Are they afraid of being touched by curry? Why else would all the reliance on script and positioning fly out the window? One film blindly trusts a myopic director; another collaborates on a dreadfully uninspired animated film; and the third pours crores onto an actor who desperately needs a new act.
What have we been waiting for? And what have the Americans doled us? It might be to soon to tell, but it heartbreakingly seems that they aren't making any attempt at all to understand our films, but are bankrolling Bollywood for the kitsch of it. And they really need to realise that it can't possibly get them anywhere.
For as you and I and every filmgoer in the country knows, sure we love our tinsel, tunak-tunak, theatricality and thumkas, but that's nowhere near what it's all about. Even though we may borrow trousers from the Brits, shoes from the Japanese and hats from Russia, Bollywood isn't Bollywood without a very desi heart.
Think Akshay Kumar could make a better Button than Brad Pitt? Think it's okay for Warner to think they own classic literature? Or just feel that legal action has to start somewhere, anywhere? Write in about that or anything at all in the world to me at senterfold@rediffmail.com. Have a good week, lads and lasses.