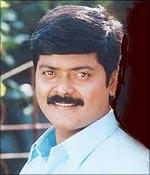 He was fondly known as Mike Murali, a worthy successor to yet another mild-mannered hero who ruled the marquee, Mohan. But who can forget the soft looks, the gentle words and melting heart that set people swooning at his various romantic avatars?
Murali, the hero who brought romance into fashion on-screen during the 80s, 90s and early 2000 passed away due to a massive heart-attack, early on Wednesday morning, in Chennai.
Born on March 19, 1964 to Kannada film director Siddhalingiah and a Tamil mother, Murali debuted with Poovilangu, Ameerjan's intense romantic drama that saw him light up the screen as a young hero, in tandem with Kuyili. The slow, sweet Athadi Pavadai Kaathada, with music scored by maestro Ilaiyaraja, remained on everyone's lips for months.
But it was Mani Ratnam's movie, Pagal Nilavu, with Revathy as his co-star that set firmly on the road to celebrity.
Fortune favours the talented they say and in 1989 the cash-registers were ringing with another blockbuster. Director Vikraman's Pudhu Vasantham, where he played one among four friends who find themselves unexpectedly saddled with a young woman (Sithara) was such a big hit that it re-wrote Tamil movie history, sparking a whole range of "friendship" films.
He acted in a slew of movie throughout the nineties, making a mark with intensely romantic movies like Idhayam, where he played a medical college student hopelessly in love with his college-mate, but without the courage to express his feelings. One of director Kathir's most memorable works, the film paid homage to unrequited love, and spawned a plethora of dramatic sagas. Soon, Murali found himself playing romantic leads in Chinna Pasanga Naanga, Manju Virattu, Adharmam and Poomani.
Just as it seemed his star was on the wane, Murali bounced back with the strength found in strong performers. His Kalamellam Kadhal Vaazhga, in tandem with Kausalya, yet again a long story where neither lover contacts each other except over 'phone, gave a new lease of life to heart-melting love stories.
But the best was yet to come. 1997's Porkkaalam, directed by Cheran, told the struggling life of a potter, who yearns to find a suitable mate for his mute sister. Intertwined is the story of his love-affair with a weaver. The touching tale, set in the barren lands of southern Tamil Nadu, revived romance, emotions and sacrifice all over again. Another hit, Kadhale Nimmadhi, where he played more or less a supporting role, did well too.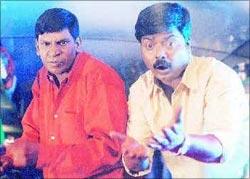 A few lackluster films such as Dhinamthorum, Veerathalattu and Rathna followed but Cheran's Desiya Geetham (1998) and Vetri Kodi Kattu (2000) raised his mark.
Never one to be saddled with ego problems, Murali proved that it was the story and the scope of his own role that counted, through the following years: Anandam and Samuthiram, directed by Lingusamy and K S Ravikumar respectively had him play one among a host of brothers, while Alli Thantha Vaanam (2001) saw him share screen-space with Prabhudeva.
In Bharathiraja's Kadal Pookkal, his performance won him the Tamil Nadu State Film Award for Best Actor.
It wasn't just tear-jerkers that Murali excelled in; Sundara Travels (2002) the Tamil remake of Malayalam's Ee Parakkum Thalika proved that comedy came to him easily too.
Murali has the distinction of having acted in over a 100 films, with a whole host of actors such as Sivaji Ganesan, Prabhu, Surya, Vijaykanth, Parthiban and heroines like Roja, Simran, Devayani, Rambha, Meena and Laila. In many ways, he formed a part of the solid rank of actors who were dependable, trustworthy, giving a depth to the characters they played without assuming starry airs.
Baana Kathadi (2010), in which he played a cameo, was the launch-pad of his son, Atharva, and the actor appeared for a few moments, giving a benediction to the newly-fledged hero. It is a pity that his son's first movie should also have proven Murali's last.
Rest in peace, Murali.