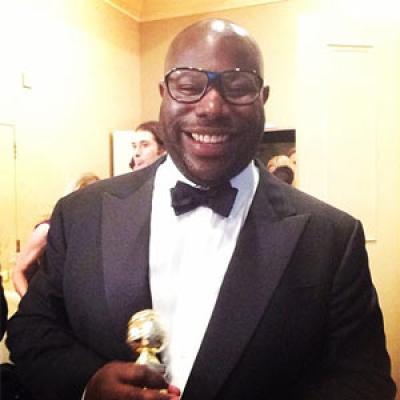 09:47
And that's a wrap! Let's excuse ourselves to recover from the shockwave that has been this year's Golden Globes awards ceremony. See y'all at the OSCARS! May the best win!
<----- Here's an ecstatic Steve McQueen, posing with the Best Picture trophy for Twelve Years A Slave. (Pic courtesy Golden Globes/Instagram)
09:28
Steve McQueen's
T
welve Years A Sl;ave finally wins. Best Picture it is!
09:25 Golden 'Snub' Globes to Chiwetel Ejiofor, Idris Elba, Tom Hanks and, above all, Robert Redford? Ouch! That's gotta hurt.
09:20 Banking on predictions while we're this far in the show? I should have known better. Matthew McConaughey 'graciously accepts his unexpected' trophy for Dallas Buyers Club.
09:17 Blue Jasmine lead star Cate Blanchett wins Best Actress for her funny yet dark portrayal of a down-on-luck former New York housewife. The film was hailed as Woody Allen's finest work in recent times.
09:13 That said, feel bad for Twelve Years A Slave. The British-American epic historical drama film was unanimously hailed as a strong contender across all categories by almost all critics. Royal snub, this.
09:10 What a phenomenal way to follow up the legendary run from last year's Globes. Won't be surprised if Bradley Cooper, Russell and Jennifer Lawrence go on to become frequent collaborators, like Scorsese-DiCaprio.
09:09 David O Russell's American Hustle wins Best Picture -- Musical/Comedy.
09:01 At this point, I absolutely have to add, owing to the dominant themes of excesses and extreme debauchery, Wolf was seen as the weakest nominee across categories. Leo's win is arguably one of the biggest surprises of the night.
08:59 Scorsese is visibly touched by Leonardo DiCaprio's impassioned acceptance speech. Wolf Of Wall Street is Leo's 8th film with the veteran filmmaker.
08:58 Martin Scorcese's Wolf Of Wall Street lead wins Best Actor in a Comedy-Musical.
08:56 And the luminous Jennifer Lawrence takes the stage to present the Best Actor nod.
08:54 I mean, the show has been on air for just a little over three months. Is Brooklyn Nine-Nine this year's Girls? I think it is! And speaking of Girls, what a royal snub to team Lena Dunham. Hope she brings her A-game to the third season, that premiered a few days ago.
08:51 What on sweet earth is going on?! ANOTHER Globe for Brooklyn Nine-Nine! The team members' faces are priceless.
08:50 Muchos gracias, Cuaron, for giving us Gravity.
08:48 Gravity snags first win of the night with Best Director nod for the brilliant Alfonso Cuaron.
08:47 Last year's Best Director winner, Ben Affleck presents the Best Director award. Heavens bless all things holy and pure because his beard is gone.
08:45
By the way, Amy Poehler stole some good luck off of Bono right before her big win of the night. Check it out
here
!
08:43 And not to forget that androgynous look Keaton is working in a tux. Such an absolute WIN.
08:40 I have a question for Diane Keaton -- How do you stay fabulously reed-thin and fierce at 68? Who am I kidding, we'll never know.
08:38 And Diane Keaton, Woody Allen's former love and star of Annie Hall, pays tribute. "Woody Allen is an anomaly," she begins. The maverick would approve of this description.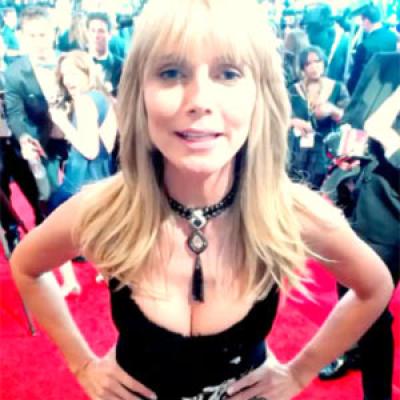 08:35
<----- Heidi Klum
08:34
The gorgeous Emma Stone is on stage to present the Cecil B DeMille Award to Woody Allen. And just how adorable does Heidi Klum look in this red carpet snap?
08:27 This night is turning epic on a completely different level. Host Amy Poehler scoops up the Best Actress -- Comedy/Musical -- for Parks & Rec.
08:26
The Globes, (in)famous for its booze-fuelled after parties and debauchery can be pretty dull for teetotalers. But Julia Louis-Dreyfus demonstrates how to have fun
without drinking
.
08:24
Meanwhile in the press room, winner Robin Wright is
ecstatic
.
08:18
Douglas's costar Matt Damon was also nominated in the same category along with Chiwetel Ejiofor, Dancing on the Edge
Idris Elba, Luther and
Al Pacino, Phil Spector
08:16 Candelabra's Liberace, Michael Douglas wins his fourth Globe.
08:13 The film pipped Blue Is The Warmest Colour from France, a hot favourite in film festival circuits and around the world.
08:12 Tony Servilo starrer La Grande Bellezza (The Great Beauty) wins Best Foreign Language film.
08:10 CAN.NOT.WAIT for Melissa McCarthy and Jimmy Fallon to take to the stage -- they are the next presenters.
08:09 Samberg rose to fame with Digital Shorts on Lorne Michaels' Saturday Night Live. The camera fittingly zoomed panned to Michaels as Samberg leaped to the stage to claim his trophy.
08:08 And I'm getting ahead of myself. Funnyman Andy Samberg won for Fox comedy Brooklyn Nine-Nine that premiered as recently as last September.
08:06 OMYGOD. Another underdog seizes the night! I won't lie, I had typed Jim Parsons even before the winner was announced.
08:02
Also, winners of the night so far,
right here
!
08:01
Looking for some more super sensational red carpet arrivals at the 71st Golden Globes?
GO HERE
!
08:01 The heartbreakingly beautiful Her wins Best Screenplay for Spike Jonze. The film stars Joaquin Phoenix and the voice of Scarlett Johansson. Much deserved win.
07:55 But props to the actor for that grunge-y pony with the tux! Also no mean feat beating formidable competitors like Barkhad Abdi (Captain Phillips), Daniel Bruhl, (Rush), Bradley Cooper (American Hustle) and Michael Fassbender (12 Years A Slave).
07:53 No you didn't, Globes! The absolute underdog in the category, Jared Leto wins for Dallas Buyers Club in the Best Motion Picture, Drama series.
07:49 "Totally unexpected, I don't even have a speech prepared," says Wright. Well, for someone who's just winging it, she's doing a fine job, I must say!
07:48 Robin Wright dashes to the stage to pick up her first Globe trophy. She has won for Best Actress -- TV drama series for House Of Cards.
07:41 Also, this was being touted as a potential clean-sweep night for Twelve Years A Slave. May be it'll catch up, there's still many more to go!
07:39 Amy Adams clocks in a second win for American Hustle with the Best Actress trophy. Adams's quivering, tiny voice is so endearing and honest.
07:38
THE Robert Downey Jr takes the stage as the next presenter for Best Actress in a Motion Picture. Nominees:
Amy Adams,
American Hustle
Julie Delpy,
Before Midnight
Greta Gerwig,
Frances Ha
Julia Louis-Dreyfus,
Enough Said
Meryl Streep,
August: Osage County
07:35 Angelina Jolie's actor father Jon Voight wins Best Supporting Actor for Ray Donovan, TV crime drama. And he is just as nervous as everybody else, he says!
07:33 Meanwhile, there's a lot happening away from the prying eyes of the cameras too! While Elizabeth Moss flipped shutterbugs on the red carpet, someone flicked Taylor Swift's Zune right off her table!
07:31 Bringing some more awesomeness from the red carpet sightings you missed, Modern Family stunner Sofia Vergara was an absolute headturner in her magnificent Zac Posen gown.
07:30 What a rousing, evocative number Ordinary Love is. "Can anyone else win when #Bono is singing for a #NelsonMandela film? @goldenglobes," asks Aseem Chhabra on Twitter.
07:26 Mandela: Long Walk To Freedom song Ordinary Love wins Best Song for U2.
07:22 Best Original Score, Motion Picture goes to All Is Lost composer Alex Ebert. And we get an P Diddy-related anecdote out of his acceptance speech! Apparently, they met before at a party on a boat!
07:18
A lot of interesting appearances on the red carpet. Girls actress and creator Lena Dunham went with a bold yellow number with a bizzare
bustier
.
07:15
But holly molly! What on earth is Paula Patton wearing, you ask?
See for yourself
!
07:13 Yet another moment of glory for Breaking Bad team. Exec producer and creator Vince Gilligan *wins* the Best Drama Series. (Also, see what I did there?)
07:11 "I'm here because of Vince Gilligan, you're awesome," he says. We couldn't agree more!
07:10 After several snubs over the years, the absolutely brilliant Bryan Cranston wins the much deserved and long overdue Best Actor nod for Breaking Bad.
07:09 Finally!
07:03 Meanwhile, the red carpet show, which we missed, saw a lot of reds. Seen here is Best Actress nominee Amy Adams.
06:59 The very dishy Matt Damon, star of the mini-series Behind The Candelabra, introduces the Tom Hanks starrer Captian Phillips, one of the Best Motion Piccture nominees of the night.
06:58 Is it just us or the winners are a lil too overwhelmed this year? All their speeches are running past the stipulated time!
06:57 And Best Actress in a TV or mini-series gong goes to Elizabeth Moss for Top Of The Lake. This is Moss's first Globes win. She also stars in acclaimed TV series Mad Men.
06:54 The Michael Douglas and Matt Damon starrer Behind The Candelabra wins Best mini-series
06:53 Fun fact: The show started in the most eventful way -- thanks to a faulty sprinkler, the Globes red carpet was momentarily flooded!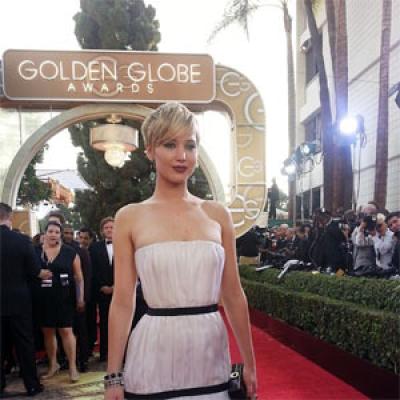 06:50
Coming back to Jennifer Lawrence, the actress sure is riding high on the popularity wave. "Is this the start of another season of J-Law," wonders People magazine.
06:48
Jacqueline Bisset just won Best Actress in a Series, Mini-Series or Motion Picture made for Television for Dancing on the Edge.
06:42 Last year's Best Actress winner Jennifer Lawrence scoops up the first award of the night for David O Russell's American Hustle.
06:41 Gravity actress Sandra Bullock and Tom Hanks take the stage as the first presenters, for Best Supporting Actress in a Motion Picture.
06:38 And here come the genital jokes, poor Jonah Hill!
06:36 And what a great impression of a jaded Hollywood star did Julia Louis-Dreyfuss just do! Dreyfuss is nominated for her film Enough Said, starring the late James Gandolfini and, and for her TV show Veep.
06:30
The red carpet madness is on!:
Hello and welcome everyone to the 71st annual Golden Globe awards, being telecast LIVE from the Beverly Hilton Hotel, California.