20:19 May the best artists win! See y'all at the Oscars!
20:05 Let me just conclude by saying that shocking snub to arguably the most sublime film of the year -- Abdellatif Kechiche's Blue Is The Warmest Colour -- and Asghar Farhadi's astoundingly well-received The Past in the Foreign Language category is causing me a lot of heartburn.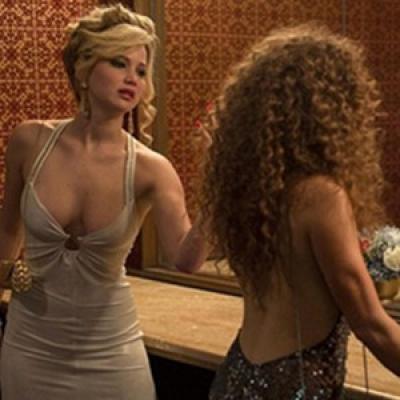 20:02
For now, let us all take a step back and appreciate this insane setting from American Hustle, the film that has swept the nominations. How gorgeous are Amy Adams (her back anyway) and Jennifer Lawrence are in this still from the film?
19:59 Wishful thinking aside though, Twelve Years A Slave and Gravity (if the Academy is in the mood to repeat Life of Pi-like big reveal this year too) stand good chances.
19:52 That said, the best part remains the Best Picture nods with TEN nominees. I'm going to go with Her because the subject is so heartbreakingly poignant and this is the only category (major ones anyway), sadly, it's been nominated in.
19:49 And DiCaprio going in for dual win after Globes glory? Some would say Wolf Of Wall Street may be too debauched and depraved in tone for the Academy's taste but what do we know? We said the same thing for the Globes, remember?
19:47 Also, movie lovers and critics from the Twitterverse are reporting that almost all their predictions turned out to be right this year. Breaking convention much?
19:46 Globes really had us at McConaughey winning the Best Actor nod (Mannn, this guy has been on fire this past year!), avid Twitterers say it should and will go to Chiwetel Ejiofor for Twelve Years A Slave.
19:44 Let's see now, among Best Actor hopefuls we have Christian Bale, 77-year-old Bruce Dern, DiCaprio, Matthew McConaughey and Chiwetel Ejiofor.
19:41 Also, what a coup it'll be if 23-year-old Jennifer Lawrence won the Best Supporting Actress Oscar just ONE year after scooping up the Best Actress trophy? Oooh the rush!
19:40 Sandra Bullock for Gravity? Mayyyyybe because remember 2009, that was just five years ago and she won one for The Blind Side? Yeah.
19:38 The Best Actress trophy is for Cate Blanchett all the way. Her moving turn in Woody Allen's Blue Jasmine has earned her unanimous votes, presence of Oscar favourite and legend Meryl Streep in the same category notwithstanding.
19:35 By similar logic, and because she is an internet sweetheart of the moment, Bradley Cooper's costar Jennifer Lawrence may win in the Best Supporting Actress segment too. However, she faces really tough competitors in Sally Hawkins from Blue Jasmine and the absolutely sensational Lupita Nyong'o of Twelve Years A Slave.
19:31 A shock win at the Golden Globes has transformed Jared Leto (Dallas Buyers Club) from an underdog to a shoo-in but, if critics are to be believed, this one really belongs to Bradley Cooper for his 70's hustler act in David o Russell's American Hustle.
19:29
Well first off, no surprises in the Best Supporting Actor category -- while limo driver-turned-actor
Barkhad Abdi was an expected nominee, cinephiles are really divided on who has the strongest chance at winning this one.
19:25 But before we get to the major categories and the nominees, a HUGE shoutout to U2 -- their song Ordinary Love from Mandela: A Long Walk To Freedom has been nominated in the Best original Song category. May their good run, that started off with a win at the Globes, continue throughout this awards season.
19:22 Now while we wait for March 2, when the 86th Oscar Awards will be telecast live from the Dolby Theatre, California, let's discuss what we just witnessed here.
19:21 Best Foreign Language film nominees are: Broken Circle Breakdown, Great Beauty, The Hunt, Missing Picture, Omar.
19:20 And the Best Director nods have gone to: David O Russell for American Hustleussell, Alfonso Cuaron for Gravity, Alexander Payne for Nebraska, Steve McQueen for Twelve Years A Slave and finally, Martin Scorsese for The Wolf Of Wall Street.
19:18 Best Picture nods go to: American Hustle, Captain Phillips, Dallas Buyers Club, Gravity, Her, Nebraska, Philomena, 12 Years A Slave and Wolf of Wall Street.
19:17 Best Actors: Christian Bale, Bruce Dern, Leonardo DiCaprio, Ejiofor and Matthew McConaughey.
19:15
Leading Actress: Amy Adams, Cate Blanchett, Sandra Bullock, Judi Dench, Meryl Streep
19:15 Best Documentary nominees: Act of Killing, Cutie and the Boxer, Dirty Wars, The Square, 20 Feet From Stardom
19:14 Original screenplay nominees are: Am. Hustle, Blue Jasmine, Dallas Buyers, Her, Nebraska
19:13 American Hustle has won yet anohter nomination, for Jennifer Lawrence in the Best Supporting Actress category.
19:12 Best Supporting Actor nominees are: Jonah Hill (The Wolf Of Wall Street), Bradley Cooper (American Hustle), Jared Leto (Dallas Buyers Club), Barkhad Abdi (Captain Phillips). The usual suspects, if I may add.
19:09
Here's a look at the inside
theatre
.
19:05 Thor actor Chris Hemsworth and Academy president Cheryl Boone Issacs are the designated presenters of the night.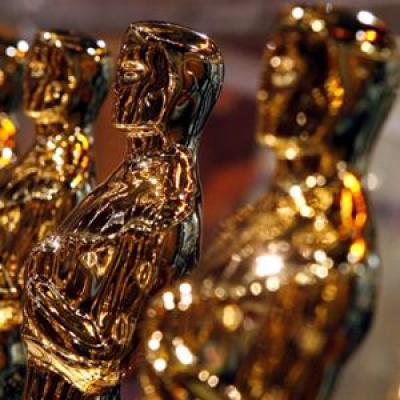 18:59
Hello and welcome everyone! We are live-blogging the 2014 Oscar nominations, set to be announced by the Academy shortly.