Strangely enough, the Indian presence at the Festival de Cannes, in the last few years, hasn't risen above solicited space on the jury. After author Arundhati Roy and actors Nandita Das and Aishwarya Rai Bachchan in earlier years, at Cannes 2009 it is veteran actor Sharmila Tagore who will serve as a member of the jury.
The festival, which is being held May 13-24, also has film critic-programmer Uma Da Cunha from India on the jury.
As far as film entries go, what's exciting about the film festival this time around is the strong Asian presence in the selection of films (with the exception of India). In the last couple of years, entries from Asian countries have yielded to a growing European and American stranglehold at film festivals around the world.
At Cannes this year, Hong Kong filmmaker Johnnie To comes with his film Vengeance, while South Korea's Park Chan-wook has his vampire thriller Thirst for a ready audience. Filipino director Brillante Mendoza's Kinatay and Chinese filmmaker Lou Ye's Spring Fever, a supposedly torrid love-triangle, promises to be cutting-edge.
The biggies at Cannes, however, remain with star directors Quentin Tarantino, Pedro Almodovar and Ang Lee. Tarantino's Inglorious Bastards, a Brad Pitt-starrer WWII drama, will compete against Lee's Woodstock, a humourous take on the legendary concert with Liev Schreiber, Jeffrey Dean Morgan and Emile Hirsch. Almodovar's Broken Embraces, starring his muse Penelope Cruz, is the other big contender at the festival this year.
As we wait for the worldwide releases of these entries, older Cannes selections are here in the meantime. From May 8-14, Experience Cannes, an initiative by NDTV Lumière, will hold screenings at PVR Cinemas in Delhi, Mumbai and Bangalore.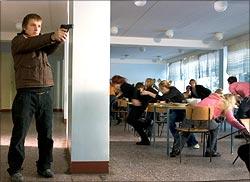 As far as recommendations go, The Class, which won the Palme d'Or at the 2008 Festival de Cannes,  Nuri Bilge Ceylan's Three Monkeys, which won him the Best Director Award at the 2008 Festival de Cannes and Persepolis, winner of the Jury Prize at the 2007 edition, are particularly interesting films from the lot.
Oh, and in case you can't catch them at the theatre, watch them on television instead, for Experience Cannes goes on air from May 13-24.
Happy viewing this May!