Child star Avika Gor, the youngest bahu of the hugely popular TV show Balika Vadhu is all set to make her big screen debut with this Friday's release Morning Walk.
Directed by Arup Dutta, the film stars Anupam Kher, Sharmila Tagore, Rajat Kapoor, Divya Dutta, Shayan Munshi and Nargis. Morning Walk is a heart-tugging tale of two families, connected through a special bond. 
Here's what Avika, who plays Anupam's granddaughter in the movie, has to say about her Bollywood debut.
 
Morning Walk is your big screen debut. Are you excited or nervous?
It's a mix of both. Families have always been my biggest fans and I'm sure they will love Morning Walk, as it is a tale of two families. I can't wait for July 10 to see myself on big screen. I hope viewers will give me the same kind of love that they have given so far [smiles].
 
Can you talk about your character?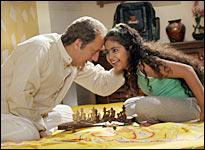 My character's name is Gargi, Anupam uncle's (Kher) grand-daughter. My parents are played by Rajat uncle (Kapoor) and Divya aunty (Dutta). I love my grandfather a lot so I spend more time with him to keep him happy.
 
What similarities do you find in Anandi (Balika Vadhu), Gargi and you?
I am like both my characters -- the only difference is Anandi is married and I am not. I like to wear traditional costumes like Anandi. But Gargi wears only western clothes in the film.
 
How was your experience working with veterans like Anupam Kher and Sharmila Tagore?
It was a great opportunity to work with all the senior actors. I enjoyed working with them as I got to learn many things. I had maximum scenes with Anupam uncle so we bonded well. He used to make funny faces and is like a child when he is with me. Sharmila aunty also spoke to me very sweetly.
 
Did he give you any tips?
Yes, he gave me tips on dialogue delivery. There was a scene in which I had to cry and he told me that I cry very well. He also told me that I have to really get into the skin of the character to get the real emotions.
 
It was reported that you are joining Anupam Kher's acting classes?
Yes. We were chatting on the sets when he told me about his acting classes. I told him that I would love to join his classes. I am planning to join his classes during the vacations.
 
Any interesting incidents during shooting?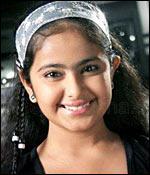 Yes. Once while shooting Anupam uncle got a call from Kirron aunty (Kher) and he told me to speak to her. She told me that she watches my serial whenever she gets time and likes my acting.
I told her that I like her lovely long hair. I watch her on India Has Got Talent (she is one of the judges). I would love to go on the sets and meet her sometime. I hope I meet her during the premiere of Morning Walk.
The other actors also told me that they have watched my shows but they have read more interviews of mine than the show because they hardly get time to watch television.
 
Now do you think people will know you more as Gargi or Avika instead of Anandi?
I don't have problem with them knowing me by my character's name or real one [smiles].
 
Everybody is talking about children being subjected to so much work pressure. How do you balance films and TV?
I love acting and get ample time to study and play. I don't think I am subjected to pressure. I shoot only after my school hours and I play on the sets as I have lots of friends.
 
Do you like acting on TV or films?
I love acting and it hardly matters whether its TV or films. I love dancing and I have danced with Divya aunty (Dutta) in this film.
 
Anything in pipeline?
Yes, I am in the movie Pathshala in which Shahid Kapur plays the lead.