Rakhi Sawant gave reality TV a more realistic spin when she claimed that she would find her husband through a reality show. And in just a few days of announcing the show, NDTV Imagine's Rakhi Ka Swayamvar got a great response from men all across the world. The show is expected to go on air in June.
Rakhi claimed the idea to wed on national television was hers but the producers have denied this. Fazilla Allana of Sol Productions, who are making the show for NDTV, tells Rajul Hegde how the concept took shape.
How did you get the concept?
Writer Aditya Bhatt developed the concept and approached us. We liked it and took it forward to the channel. We and a few other people were working on the marriage concept for a while so when we heard about this concept, we grabbed it.
Why did you choose Rakhi Sawant?

When Aditya came to us with the concept, he had already thought of who would fit into this concept. He had Rakhi on his mind. The channel and producers didn't have any problem with that. We liked the concept and agreed to produce the show because the celebrity was Rakhi and she is the USP of the show.
Rakhi has quite a controversial image.

I think in reality shows like this, we need someone like her who has the spunk, has the capacity to stand out, is attractive and individualistic.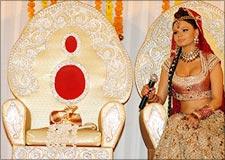 Is the show similar to the international show, The Bachelorette?

Yes. It's similar but not a copy of that. You can say it's inspired from different shows. This is not the first time that we are having a matrimony show on Indian television. A few years ago, we had the Madhuri Dixit show called Kahin Naa Kahin Koi Hain, in which commoners chose their partner on television. But this show is different because here, we are looking out for a bridegroom for a celebrity. The celebrity has a wide choice to pick her ideal groom.
Please tell us about this concept in detail.

This is our modern interpretation and adaptation of the age-old tradition of arranged marriages, where we are using the hugely popular platform of television to help Rakhi find her groom and fulfil her dreams. Each week, the prospective grooms will be put through tasks that will test their personality, character, physical fitness, talent and compatibility with Rakhi. She will also visit the homes of these men to get to know their families better.

The final week will show the wedding celebrations of Rakhi with the groom that she has chosen.
Are you happy with the kind of response you have got so far?

I don't know the numbers but the response has been very good. We have entries from all over the country and with so many prospective grooms on hand, that would help us find the right match for Rakhi. People are really very serious about this show.
What kind of people have applied for the show?

There are people from all walks of life like doctors, engineers, NRI, models...
On what basis will you choose 15 prospective grooms?

We will select them through auditions. It's a long process. The applicants will be short-listed and around 18 from each city will be called for face-to-face meetings. From these, 50 will be short-listed and the final 15 will be chosen from here. We have hired an agency to take care of the auditions.
Will Rakhi have any say in selecting the applicants?

Yes. Not in the beginning because this will be a very long process. She will get involved at a later stage.
We can't help but wonder whether Rakhi will actually get married at the end of the show.

Keeping her likes and dislikes in mind, we are working hard towards it. Eventually, Rakhi has to take a decision. We can take a horse to the water but cannot force the horse to drink, right? Likewise, our effort is to shortlist the 15 eligible grooms and help her find a suitable partner through this show. We hope she finds her Mr Right at the end of the show.
There are rumours that Roshni Chopra and Sambhavna Seth were approached to host the show.

A number of people are being considered. Roshni is one amongst them but nothing has been finalised. But Sambhavana has not been approached.