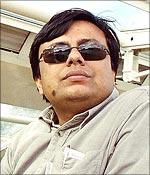 Considering the subject matter of Mr Singh Mrs Mehta -- extra-marital affairs -- one is bound to come across a few bold scenes, which the movie starring Prashant Narayanan, Aruna Shields, Lucy Hassan and Naved Aslam, has in plenty.
But thanks to debutant director Pravesh Bhardwaj, the film doesn't end up as just another sleazy skin flick.
The Amritsar-born graduate from Rohilkhand University in Bareilly spoke to Nithya Ramani about the film, the 10-minute nude scene and much more. Excerpts:
The thing that this film rides on is the nude scenes as well as kissing scenes. Was all this planned?
The scenes are only of 10-minute duration. There's more to the film than just nudity.
How did the idea of this film develop?
I always had a fascination for agony aunt columns. The immediacy and urgency of tone in these columns moved me. I used to read them a lot. Agony aunts always had a solution to problems.
Usually the problem is about a husband/wife sleeping with other people. I was impressed by the fact that someone could come up with ways to make their lives right. That's when I came up with the idea of what if they themselves encountered a problem. What will an agony aunt do if her husband had an affair? Will she be any different from other women?
That is how the idea for Mr Singh Mrs Mehta came about. As the screenplay developed, however, I dropped the agony aunt aspect. I was interested in only one woman's story rather than a horde of problems being tackled by one person.
Why choose a subject like an extra-marital affair for your first film?
With time the institution of marriage has changed. In our society we still attach stigma to broken marriages/separations/divorces. The morality of this whole thing is evolving every day. I decided to explore this issue.
While writing the script, the key thing in my mind was to present the characters in such a way that I don't judge them for the audience. I did not look at them as the custodian of virtues. They are people like us who are caught up in a situation.
I wanted to keep the intimate tone of the columns in the film which then became the guiding force for the script. It's like a conversation between friends and I wondered why we don't use this in films. This is primarily the reason why the film has only four characters.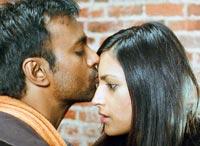 Finding the right cast for your first film must have been tough especially given the subject matter...
Yes, casting was tough even though there are just four characters in the film. Many of them turned down the script for reasons like not wanting to do a low budget film with a new director.
A lot of actors became uncomfortable as soon as they saw a script that had absolutely no potential of being the next summer blockbuster. Others even threw the script at my face when they came to the nude scenes.
Why and how did you cast Aruna Shields?
It was not an easy decision to cast Aruna in the pivotal role of Neera Singh. Or for that matter any British Asian actor. She didn't know a word of Hindi and so she was reluctant to be a part of something so alien to her.
She was supposed to play a rather timid and quiet character, which she is not in real life. Not only did she have to dress differently, but also speak in an alien language. Though we had shortlisted other actresses for the role, I couldn't see anyone else but Aruna playing it.
The way she prepared for the audition, her total focus and dedication made factors like her not knowing the language irrelevant.
Aruna plays a girl from a small town in North India, clearly a world she is not aware of. She had to go with my interpretation of a world she didn't know and that kind of surrender is not normally possible with our actors. It was an absolute pleasure working with her.
Language must have been a problem...
Initially it was (a problem). Not only Aruna but Lucy Hassan too is a British Asian who did not speak or understand Hindi. Lucy has a strong role but in terms of screen presence, she is there for a limited time, so it was bit easy to work around her. 
As for Aruna, it was sheer perseverance on her part that we managed to get the tone and mood right in each and every scene. For every scene Aruna made me explain the meaning of every line. With a different coloured pencil she would note down the meaning. And then she would ask me to explain the meaning of every word jotted in the script. After doing all this she made note of the pronunciation of every word. After that she made me tape the scene.
Tell us about the music of the film.
The soul of Mr Singh Mrs Mehta lies in its music. Shujaat has composed six songs for the film -- a mix of ballads, ghazals and sufiana songs which take you back to the good old days.
Besides composing the music he has also lent his voice to the song, Aye Khuda. Udit Narayan, Shreya Ghoshal, Kay Kay, Richa Sharma and Roopkumar Rathod are the other singers. Amitabh Varma has penned the lyrics.
How does it feel now that your film is finally releasing?
I have an unreasonable attachment to my first film and I think the film actually gets over when it's released. It's is very exciting to see the poster of your film on someone else's Face Book profile and I wonder how it would be to see it pasted on a wall. I hope people don't spit on it.