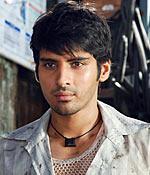 Mumbai-based businessman-turned-actor Sammir Dattani started his Bollywood career with small films like Uff Kya Jaadoo Mohabbat Hai, Pyar Mein Twist and Mukhbir.
But with Well Done Abba directed by Shyam Benegal, the actor may well have arrived. The film which opened to good reviews, also stars Minissha Lamba and Boman Irani.
Sammir always wanted to be an actor. He began young -- while at school. He did music videos when he was 17 and a Kannada film after that. He also had a small part in Madhur Bhandarkar's Corporate.
Sammir reveals to Nithya Ramani about the call that changed his life. Excerpts:
Working with Shyam Benegal must be a high for you...
Don't even ask. I thought it was a joke when I got a call from his office asking me to meet him for a role in his next film. He had seen me in Mukhbir and wanted me to play Arif in Well Done Abba.
I couldn't believe my ears and decided not to think too much about it. Since it is Shyam Benegal, I was ready to play any role he offered me. We usually read the script and see if the role is worthy enough before signing a film. But this is Shyam Benegal we're talking here. So when I met him I told him that I was ready to do any role. But he offered me Arif and I was more than happy. Everyone knows that Shyam Benegal's films are not preachy though they have a message in them.
Arif is a very earnest and honest young man. He is a progressive Muslim, who works as a typist at the high court during the day and a mechanic at a garage during the night, to make ends meet.
This is your second film with Minissha...
Yes. It felt nice to get back with her after Corporate. We had lost touch after the film. We caught up on things while shooting for Well Done Abba. She is a wonderful actress and fun to work with.
What about Boman Irani?
He was like a father to me on the sets. I still call him Abba. He made me feel so comfortable. He took care of me, made sure we were all okay, regularly checked if we ate and slept properly.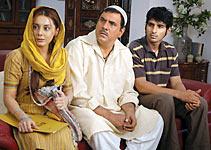 Though you are a few films old, why do you think you couldn't make a mark yet?
I think it is just a matter of time. I started my career at a very young age and did my first music video when I was 17. I have always wanted to get into acting.
Not many know that my first film was a Kannada one called Nana Preethiya Hudugi directed by Chandrasekhar. The film became a super hit and I started doing more Kannada films. I recently shifted to Tamil with Kutty (starring Dhanush and Shriya Saran). The Kannada film industry was welcoming and though I didn't know the language then, I have kind of learnt it well now.
It was a smooth ride and very successful so I became pickier about my role in Bollywood. I don't think I am far from making it to the top here. Though Uff Kya Jadoo Mohabbat Hai didn't do well, Mukhbir was well appreciated and now with Shyam Benegal's film I think I will make it here.
You all had to speak in the Urdu dialect, Dakhni. Was it tough for you to learn the language?
Languages doesn't leave me alone [laughs]. I had to learn Kannada, then Tamil and now Dakhni. Though Hindi wasn't a problem, this particular dialect was a little different. It took me some time but I learnt it.
What's next?
I am shooting for Karan Johar's I Hate Love Stories along with Imran Khan and Sonam Kapoor. It is a typical rom-com entertainer. It is supposed to release sometime in June or July.
I then have a horror flick 8 by Wilson Louis. It is too early to talk about that film now.