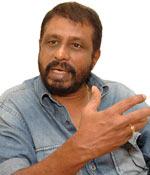 Cinematographer Alagappan has shot more than forty films in a career spanning 30 years and won many awards including a National Award for Shyamaprasad's tele-film and a Kerala state award for Agnisaakshi (for Shyamaprasad again).
His other notable films are Ore Kadal and Thalappavu. The last film of his to hit the screens was the Tamil film Irumbu Kottai Murattu Singam.
Now he returns with Priyadarshan's children film in Hindi (his first), Bum Bum Bole. He tells Shobha Warrier about shooting the movie which releases this Friday. Excerpts:
Though all my juniors in cinematography have worked with Priyadarshan, I did not. One day I met his assistant at an airport and expressed my desire to work with him. Very soon, I got a call from him, and that was how Bum Bum Bole happened.
Priyadarshan's Bum Bum Bole is inspired by Majid Majidi's Children of Heaven. The film stars Darsheel Safary, Atul Kulkarni and Kaveri Jha. The difference between these two films is that Bum Bum Bole has been adapted well for the Indian audience.
The much acclaimed Iranian film was a visual treat and like all Priyadarshan films, this is also visually beautiful. The story may speak of poverty but Priyadarshan made the film visually beautiful. It was very easy to work with him because he knows cinematography.
Though the story occurs in Assam, we shot the film in Ooty and some portions in Chennai. You won't believe there are areas in Ooty which look very similar to Assam with thick vegetation, tea estates and all.
I feel a cinematographer's job is to create magic on screen with the camera. One thing that made me really happy about this film was that I had lighting continuity. Due to many reasons, I could not do that in many of my films. In the case of Priyadarshan, he never compromises. So, it was a very satisfying experience.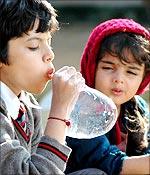 Like in the original, nature blends with the story. The story, as you know is about purchasing a shoe. 
To shoot kids and animals, a cinematographer has to have a lot of patience. You need presence of mind and have to be alert all the time as both are very unpredictable. You also cannot restrict kids and animals.
Darsheel and the girl who plays his sister are very intelligent and professional. Most actors are not professional or disciplined in front of the camera but these two kids were amazing. Both were like true masters and I was surprised at their professionalism.
Darsheel is perfect with his dialogue delivery, movements and even knows about light patterns. He would ask me like an adult, 'Sir, how many steps do I have to take?'
Priyadarshan also makes sure that all his actors behave well in front of the camera. Camera is like a temple and you need discipline when you are inside a temple.