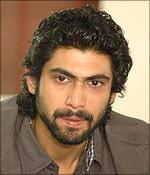 It's not often that an actor makes his debut in three different languages at the same time.
But Telugu star Rana Daggubati is one of the few to achieve this distinction. He made an impactful debut with Sekhar Kammula's Telugu film Leader this February which will complete a 100 days on May 29.
Before the release of Leader, Rohan Sippy offered him the Hindi film Dum Maro Dum which marks his maiden appearance in Hindi alongside actors like Abhishek Bachchan, Bipasha Basu and Prateik Babbar.
Now he completes his 'hattrick' debut with a bi-lingual film (shot separately in Telugu and Tamil) to be directed by Selva Raghavan (Selva for short).
In this exclusive one-on-one interview at Rama Naidu Studios, Rana provides a peek into Selva's bi-lingual and Dum Maro Dum. Excerpts:
Why Selva's film?
After Leader, I was looking for something unique. I found writers were following the same kind of story-telling which was run-of-the-mill. I was talking to Selva regularly. Some time back (when I was not an actor) he told me that he would direct a film where I should act. I did not think of being an actor then. If not for Sekhar, it would have been Selva who would have directed my first film.
Selva had also directed Venkatesh (his uncle) in Adavari Matalaku Ardhale Verule...
Yes. Selva called me one afternoon and asked where I was. I was in Mumbai but was returning to Hyderabad. So he came to Hyderabad and narrated the idea which he said he would develop into a script. It was a period film. Recreating time and creating that 'world' was fascinating for me. The bi-lingual film goes back 5000 years.
Is it part fiction-part reality set against a historical backdrop?
There's no history.
How different will it be from Aayarathil Oruvan, Selva's recent period film?
Aayarathil Oruvan had some historical references like the Cholas. The film I'm doing is an action love story. We are trying to create a new 'language' within the existing Telugu film. In old Telugu films, they used to speak a simple for of Telugu. We're trying to work it out.
Is it going to be shot separately in Telugu and Tamil? Would you be dubbing for both?
Yes, it will be shot twice and I would be dubbing for both.
Since you said it's set in ancient times, would there be large sets?
It's a complex film. We are trying to see how best we can use the current environment.
Did you make any contributions in the script written by Selva?
We interacted a lot. I gave some suggestions which were incorporated. Selva and I think alike. My Dad is also fond of Selva.
Since you have been involved in production and special effects, how far can you contribute to the film?
Very much. In as much as I want to act in new genres and experimental films, there's a budget for everything. Each category of film falls has a budget and I would like to work around it. I can bring in post-production skills.
In Dum Maro Dum, you play a musician. The story is supposed to be based on drug trafficking in Goa.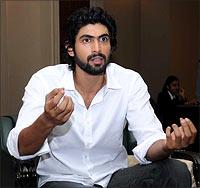 Yes, I play the guitar. I bought one and learnt how to play it.
Dum Maro Dum is being shot in sync sound. How did you work on the diction and polish your accent?
Right after Leader, I was doing workshops with the cast. I also had a diction trainer.
What are the advantages of doing a Hindi movie?
There is a regional barrier in Tamil and Telugu. In the Hindi film, I play a musician which I cannot do in Telugu. There are more characters I can play in Hindi.
How much of the movie have you shot?
About fifty per cent. In Hindi, there's a lot of pre-production work. So we started after that was done. That way the film gets over faster.
How has the shoot been so far?
It was superb shooting in Goa. It was a fun atmosphere as we were all a young bunch.
How was it working with Abhishek Bachchan?
I have known him before. He is a fun person. He took care of me.
How was Rohan as a director?
Rohan is superb. I couldn't have asked for someone better.
Would you want to do more Hindi films?
Telugu is the base since it's my language and my primary space. But I would want to do Hindi films on account of the characters one gets to play.