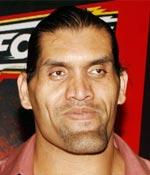 This weekend will see a new entrant in the Bigg Boss house.

WWE wrestling star The Great Khali will make his way into the reality show this Saturday.

It will be interesting to see how the housemates will treat the seven-foot tall, 190 kilos wrestler. According to sources, Khali will be provided with a custom-made bed in the house.

Khali, whose real name is Dalip Singh Rana, tells Rajul Hegde why he's looking forward to being locked in the house with 11 strangers.

How were you approached for the show?
The channel coordinated with World Wrestling Entertainment and it worked out.
I took it up because my wife wanted me to participate in the show. Plus, people have always known me as a wrestler or an actor, not as a person. Through this show, I will reach out to my fans and they will know me as I am.  
I have never watched the show so I'm unaware of what exactly I will be doing inside the house. I'm very excited but nervous.
How is Khali in real life?


Khali, in real life, is cool.
Are you going to miss your family in the house?
I will miss my wife; I am so used to her being around. She manages my work and everything. So I will miss her every moment. Plus, my parents and friends, as they have been always there with me.
You are the only wrestler from India to have reached an international level through WWE. Do you feel special?
I feel good and lucky to be a part of the WWE team. There are people who are still looking forward to be a part of the show. I am glad I made it to the ring.
You don't have a controversial record like the people in Bigg Boss. Will it be tough for you to adjust with them?
As of now, I don't know anything about the people in Bigg Boss. I haven't watched the show, so I'm clueless of how things will work out. I have heard that there are problems with food in the house, so wish my wife was there too. I hope they make special provision for me.
I am a very simple person and will adjust with the people around me. The rest is to be seen. It will be a different yet exciting experience.
Salman Khan said he is a big fan of yours. Comment.
Actually, I am a fan of Salman. I am really looking forward to meeting him. He is popular for his work just like I am popular for mine. We respect each other for the work we do.
You have done a few films.
I have worked with Brad Pitt and it was a wonderful experience. He is a genuine man and lovely to work with. I just finished a French movie, and my Bollywood film Rama the Saviour is up for release. I want to work in as many movies as possible, both in Hollywood and Bollywood.