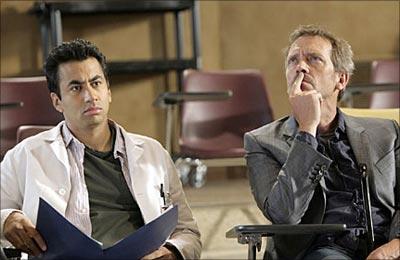 From a hit TV show named House to the real-life White House in a matter of months. Sounds crazy, right?
Not for prominent Indian American actor Kal Penn, who on Monday night took a giant step towards a full-time political career, when his much beloved character Dr Lawrence Kutner was killed off, via suicide, from Fox's hit medical drama House.
Penn, of Harold and Kumar go to White Castle fame, has become increasingly politically aware and vocal, campaigning for then US Democratic Presidential candidate Barack Obama throughout 2007 and 2008. Not only did he provide a fresh, recognisable face to the Obama Express, he also used social media tools like blogging and Twitter to help energise America's youth vote.
Evidently, his loyalty to the now-US President has been rewarded, as Penn was recently offered the position of Associate Director in the White House Office of Public Liason. And while the pay ain't great, the prestige is; which is why Penn is jumping at the opportunity.
So, unlike most killed-off sitcom characters, Penn's leaving the immensely popular House of his own volition. In a sit-down with EW, he explained his departure:
'I was incredibly honoured a couple of months ago to get the opportunity to go work in the White House. I got to know the President and some of the staff during the campaign and had expressed interest in working there, so I'm going to be the associate director in the White House office of public liaison. They do outreach with the American public and with different organisations. They're basically the front door of the White House. They take out all of the red tape that falls between the general public and the White House. It's similar to what I was doing on the campaign.'

Asked if he's retiring from acting, Penn replied evasively. 'Not necessarily. Who's to say where any path leads? I still have a passion for it. But for the time being, I won't be acting,' he said.
EW also spoke with House executive producers David Shore, who had nothing but kind words for Penn, despite the abrupt departure. "It was very early in the process that he told us that he might [at some point] want to move on and work in politics,' Shore told EW. 'He has been involved in a number of other things [while working on House]. He worked very extensively for the Obama campaign and he's been teaching at Penn. Kal is a man with broader ambitions than the entertainment industry.'
As for Dr Kutner's death, Fox was ready for the momentous occasion. Within minutes of the 'suicide', an obituary page for the fictional doctor had popped up on Fox's web site. In addition to a video, there's a formal 'obituary' note, part of which reads:
Kutner received a full scholarship to the University of California at Berkeley and graduated magna cum laude with a degree in Physics. He then attended the University of Tel Aviv Medical School and completed an internship and residency in Sports and Rehabilitation Medicine through the University of Colorado.
'He wanted to be a doctor since seeing 'M.A.S.H.' as a kid,' said his close friend and colleague Dr Chris Taub. 'I think he modelled himself a little bit after Hawkeye Pierce.'
Kutner's girlfriend Nicole Brewster remembered that Lawrence, being adopted and of Indian ancestry, always felt like an outsider. But she said he didn't resent it -- instead, he felt the experience gained him added insight and perspective. This drew him to take atypical paths in his career and personal life. One such example is when he decided to break the world record for distance crawling. After a grueling 43 hours, he managed to crawl 20 miles, and earn himself a place in Guinness Book in 2002.
Best of luck, Kal. But is anyone truly surprised that an Indian actor is entering politics?
In the picture: Kal Penn with Hugh Laurie in a scene from House.