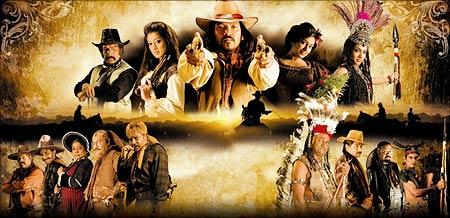 Directing a first film for a production company owned by Shankar, the king of commercial cinema, and making it run for 100 days is no mean feat. But that is what young director Chimbudevan did.
His first Tamil film Imsai Arasaan 23aam Pulikesi, a political satire with Vadivelu in the lead was for director Shankar's S Productions. Happy with its success, Shankar produced his next film Arai Enn 305il Kadavul (God in Room No 305) but that did not do well as expected.
Now, Chimbudevan is back with his third film, Irumbukkottai Murattu Singam, a cowboy film in Tamil! Like his earlier films, this too is a full length comedy. The last cowboy film in Tamil was made 36 years ago -- Jai shankar's black and white film titled Ganga.
The story of Irumbukkottai Murattu Singam takes place in the 18th century. Filming will start in Kerala where a gigantic village set has been built by art director Muthuraj. After that, shooting will move to Thenkasi, Thada, and Madhya Pradesh.
Ragavara Lawrence is the hero while Padmapriya , Lakshmi Rai and Sandya are the female leads. Sai Kumar is the villain while Nazzer has a major role. 
Wielding the camera is one of Kerala's famous cameramen, Azhagappan. Music is by G V Prakash.
Kalpathi S Agoram's AGS Entertainment that produced successful films like Thiruttu Payale and Santhosh Subramaniyam is producing this high budget movie.