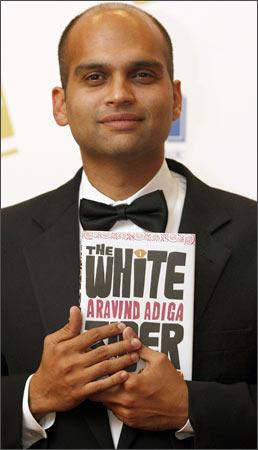 Ready for another Slumdog Millionaire?
You'd better be because after Vikas Swarup's Q & A was made into Slumdog Millionaire by Danny Boyle, it's the turn of Aravind Adiga's Man Booker Prize winner The White Tiger.
According to THR.com, the book's rights have been acquired by Revolutionary Road producer John Hart's newly formed Smuggler Films whose first project is the India-themed book.
Like Slumdog, the book too tells the story of class tensions in contemporary India, this time through the eyes of Balram Halwai, an ambitious driver who want to better his lot by any means, even it means murdering his owner.
And if you thought Slumdog showed India in a poor light, think again. According to THR.com report, White Tiger, which will be produced in association with Jolyon Symonds' and Nicholas Greene's Ascension Entertainment, offers a darker message than Danny Boyle's Oscar winner.
'While 'Slumdog' paints a romantic portrait of the rising India, in which anyone can be a millionaire, 'The White Tiger' suggests that to succeed, murder may be the only option,' THR.com quoted the producers as saying.
In the picture: Aravind Adiga poses with his book.
Photograph: Alessia Pierdomenico/Reuters