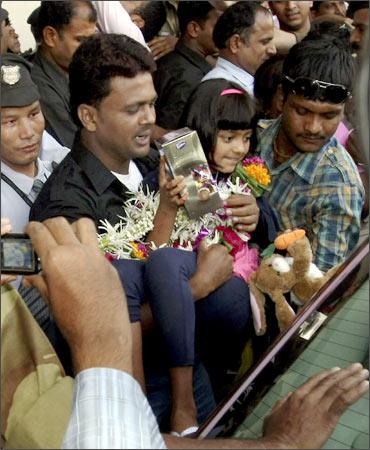 Slumdog Millionaire's Rubina Ali is in the news again. But this time the news is not good. The girl's father, Rafiq Qureshi has been arrested for allegedly trying to sell his daughter for 200,000 pounds.
He was arrested after a complaint was filed by Rubina's biological mother, Khurshida. The 36-year-old man's ex-wife claimed that she was aware of the matter two weeks ago. She alleged that Rubina, who plays young Latika in Slumdog, was being sold off to a sheikh in Dubai.
Based on the complaint, the police took Qureshi for questioning. They are also trying to get the video recordings of the meeting at which the deal was supposedly brokered.
Terming her ex-husband and his new wife Mina as "money-crazy", Khurshida said the two were desperate to cash-in on the nine-year-old's fame.
Rafiq, however has denied the allegations. Even his daughter has expressed her desire to remain with her dad.
In the picture: Rubina Ali's father Rafique Qureshi with his daughter. Photograph: Reuters