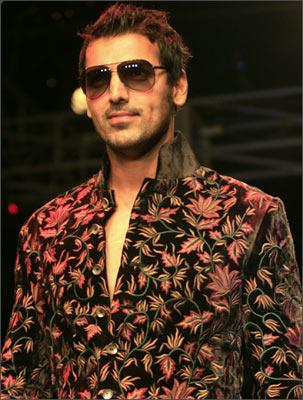 Bollywood heartthrob John Abraham is all set to venture into international cinema with gangster flick American Empire.
Abraham, who earlier earned rave reviews in the Deepa Mehta's Oscar nominated film Water, is currently reading the script of the film.
"I am pretty excited about the film. Right now I am reading the script and dwelling into the details of my character. I am really glad to be a part of it," Abraham told PTI.
He was in the city to judge Castrol Power-1 passion hunt. The actor, however, did not disclose much about his role in the film which reportedly revolves around young woman and her hitman boyfriend.
The gangster drama will be directed by director Andy Armstrong, who last made TV series The New Adventures of Robin Hood. Armstrong will portray a bizarre picture of underworld with eccentric characters, angst and violence.
The 36-year-old actor, who is riding high on the success of gay-comedy Dostana, hopes that the sequel of the film will also charm the audiences. But Abraham did not confirm whether he would be a part of the sequel.
"Dostana-2 is definitely on. I really can't confirm if I am a part of it but I am hoping for the best," the actor said.
Abraham is also excited about his upcoming film New York, which is slated to hit the theatres in June. The Bollywood hunk has stripped off for a sequence in the film where he is shown lying naked in the police custody screaming about his innocence.
New York revolves around three friends Abraham, Katrina Kaif and Neil Nitin Mukesh whose lives go topsy turvy after 9/11 terrorist attack on the twin towers of the World Trade Centre.
When asked that is this the new trend starting in Bollywood, Abraham jokingly remarked, "Oh really... I din't know everybody is doing it." Reminded about his good friend Neil Nitin Mukesh's doing a similar act in Jail, Abraham said, "I don't think any body is copying my act. It becomes necessary when it is the call of the director and demand of the script," he said.
The actor, who was reportedly planning to act in Sanjay Leela Bhansali's Chenab Gandhi, starring Amitabh Bachchan and Vidya Balan, had bowed out of the project. Rumours were abuzz that it was Abraham's girlfriend, Bipasha Basu, who did not want him to act opposite Balan. Abraham had shared a sizzling chemistry with Balan when they were paired in Salaam-e-Ishq.
When asked was this the reason behind his exit, the actor declined to comment stating, "I would really not want to talk about it."
Text: PTI | Photograph: Jayanta Shaw/Reuters