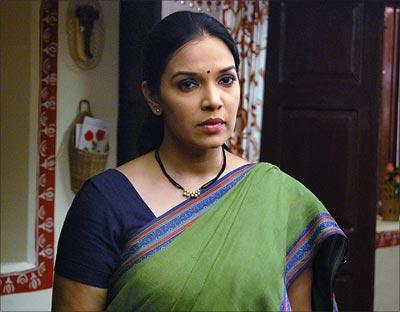 Ladies Special, telecast on Sony Entertainment Television, is becoming very popular.
The story revolves around four ladies -- Neena Gupta, Shilpa Tulaskar, Ashita Dhawan and Payal Sarkar -- who travel to work in Mumbai's local trains, and become friends.
Shilpa Tulaskar was earlier seen in television shows like Shanti, 9 Malabar Hill, Trikal, Palcheen, Choti Ma, Jersey No 10 and Dill Mil Gayee. She has also acted in films like Dombivili Fast and Kalchakra.
Shilpa tells Rajul Hegde about her character in Ladies Special. 
 
Tell us about Nanda Shinde, your character.
Nanda shares a very beautiful relation with her husband. She is in love with him even after 18-19 years of marriage. She is conservative and narrow-minded.
How much can you relate to your character?
I have travelled by train but not with such similarity. Like Nanda, I take motherhood very seriously. I am also conservative though not narrow-minded.
Would you like to share any funny incident that happened during the shooting?
There was a scene where all the women in the railway station had to hit these four boys (for eve teasing). We really got into the spirit of things.
What feedback have you got from viewers?
I am overwhelmed with the amazing feedback I've got from people, including on Facebook. I did expect a good response from women from Mumbai because they can identify with it. But what surprised me was that I have number of men who write to me on Facebook. One of them said the chemistry between my husband (Sandeep) and me is good. Another said that the scenes are so real. Another said he has a 16-year-old daughter and can easily relate to the show (Nanda has a daughter of same age in the show).
Have you ever calculated the number of years that you have spent in the industry?
I realised this when Ashita Dhawan (another protagonist in the show) called me ma'am [smiles]. People's attitude towards you is different when you are in the industry for a long time. Frankly, I don't have time to think about all of this because of my hectic schedule.
When you look back, do you find any difference working in television now?
I started acting at the age of 18. I never looked 18, so I was offered only mature roles. I never got peppy or chirpy roles. But the advantage was that I got to play meaningful roles.
At that time television was not what it is today. Hoardings and publicity were unheard of. The journalists who came to interview us were from regional papers. DD (Doordarshan) was probably the only channel that reached viewers, who were interested in knowing about us. Now the television industry has evolved and is considered glamorous. I am happy to be part of the next change. I have only done four films in last 14 years so now I am looking forward to good films.
How do you manage shooting with your five-month-old daughter, Shaiiva, on the sets?
I have a six-year-old son as well. I bring Shaiiva on the sets everyday because I feel that it is not just quality, but the quantity of time that is equally important. I can work at 40, but it is very difficult to be a mother at that age. She accompanies me to the sets and doesn't throw any tantrums. She stays in the air-conditioned van with a nanny. But whenever she needs me, she will come to the sets and meet me.
Initially, she was reluctant to go to others, but now she knows everyone on the sets and will go to them.