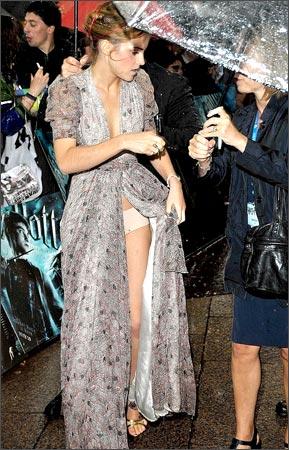 Harry Potter star Emma Watson is the latest celebrity to suffer wardrobe malfunction as her frock slipped at the rain soaked premiere of Harry Potter the Half-Blood Prince in London.
The actress found it difficult to cover up as her frock slipped on her way back home after the screening, the Sun reports.
She tried to gather up the flowing skirt of her long dress to avoid stepping on the hem but was snapped accidentally flashing her panties to her fans and paparazzi.
Her co-stars Daniel Radcliffe and Rupert Grint also accompanied the 19-year-old actress.
Harry Potter the Half-Blood Prince is scheduled to release on July 15.
Text: ANI