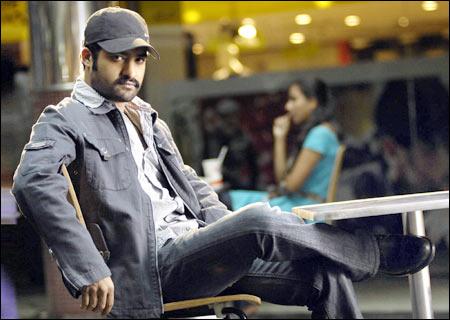 NTR is back to work for his latest Telugu movie Adurs a few days after recuperating from the injuries he sustained in an accident on one of his election campaigns.
The young actor, who started campaigning for Chandrababu Naidu's Telugu Desam Party, is proving to be a chip off the old block -- rather like his late grandfather -- in terms of his mesmerising speeches till the accident cut short his campaigns.
Adurs is being produced by Vallabhaneni Vamsi Mohan (under Vaishnavi Arts Banner) and directed by VV Vinayak. Slated for summer, the film's release got postponed on account of NTR's injury. NTR and Vinayak share a good rapport as they have done Aadi and Samba together before.
Nayantara and Sheela give NTR company in Adurs and thereby revving up the glamour quotient of the film which is now scheduled for release on October 14.
Devisriprasad composes music like he did for NTR's film Rakhee (helmed by Krishnavamsi).
NTR is rumoured to be playing a double role (a brahmin and a don) in Adurs while Nayantara is rumoured to appear in a bikini.
NTR's last film Kantri directed by Mehar Ramesh did average business at the BO, while Rakhee (the film before Kantri) rocked at the turnstiles. It's been a year since a NTR release so his fans must be waiting with bated breath for Adurs.
Text: Radhika Rajamani