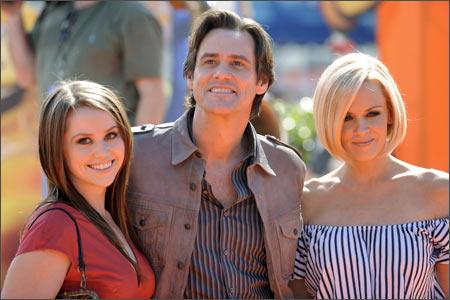 Jim Carrey is set to become a grandfather, as his daughter is pregnant.
The Mask star's representative confirmed to Access Hollywood that his 21-year-old daughter is expecting a baby with her lover Alex Santana, the China Daily reports.
'I am very excited. Jane is going to be a great mom,' the actor told Radar Online, which first reported the news.
Jane, who is the lead in Jane Carey Band, a group based in Los Angeles, is Jim's daughter with ex-wife Melissa whom he divorced in 1995 after being married for almost a decade.
She has often been spotted with her father and his girlfriend, Jenny McCarthy, at autism fundraisers and events.
Image: Jim Carrey (centre) with daughter Jane (left) and actress Jenny McCarthy. 
Text: ANI | Photograph: Phil McCarten/Reuters