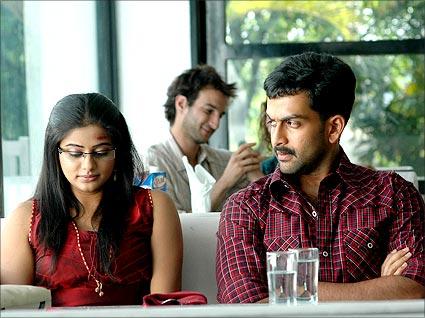 Lal Jose's Malayalam film Classmates, starring Prithviraj, Narain, Jayasurya and Kavya Madhavan was one of the biggest grossers in the history of Malayalam cinema. In a way, this film marked the arrival of the young brigade in the Malayalam film industry.
It was a thriller that had romance, suspense and action in the right proportions, and that was the reason for its unprecedented success.
The film starts with a college reunion and a murder mystery is told in flashback.
With the success of the film, nostalgic college and school reunions became a craze in Kerala. One of the most talked about school reunions was organised by Mohanlal and Priyadarshan.

Now, Classmates is being remade in Tamil with Prithviraj doing the same role as that of a student leader. National award winning actress Priya Mani takes over from Kavya Madhavan. Jayasurya, as the wily politician, is replaced by Karthik Kumar, who is getting a break from his American Mappilai image. P Vasu's son Shakthi also stars in the film.

Director G N R Kumaravelan says that he has made a lot of changes to suit the Tamil audience. Those who have seen the original hope that in the bargain, the essence of the original is not lost.