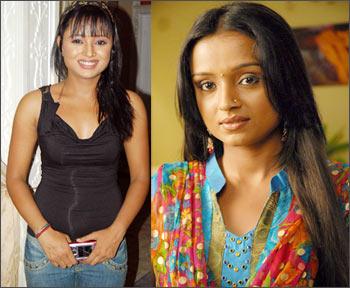 Television actress Parul Chauhan -- who is popularly known as Ragini from Bidaai -- has ditched her simple look for a more glamorous one.
The actress is donning a new look post-Jhalak Dikhhla Jaa, and of late, she has been seen wearing mostly western outfits with a trendy new hairdo.
When asked what the reason behind her new hairstyle, she said, "I was performing my regular puja with camphor and had put a bit more than what was needed. Suddenly the flames leaped up and burnt a few strands of hair here and there, and it was really looking odd.
"I had no choice but to rush to the parlour and work on my new look. At first I was scared that my hair got burnt. Thanks to my beautician, I have a new look today. For me it was something very new, as I have never had a fringe before. But I went for it," she said.
Parul is quite happy with her new look "Ever since I changed my hairstyle, I have been getting compliments from friends and fans. When I am shooting for Bidaai, I apply gel to get back my Ragini look."
Asked if her choice of western outfits was a decision to shed her simple image, Parul said, "It is not that I was not wearing western outfits at all. But I used to wear on few occasions and would avoid it because of Ragini's sweet and simple image. Since people have already seen me on a dance show. I have started wearing it everywhere. I am enjoying my new look, but it's not a makeover," said Parul.
She admits that she has got quite a few offers, but says, "Nothing concrete has happened till now, so I cannot give any details."