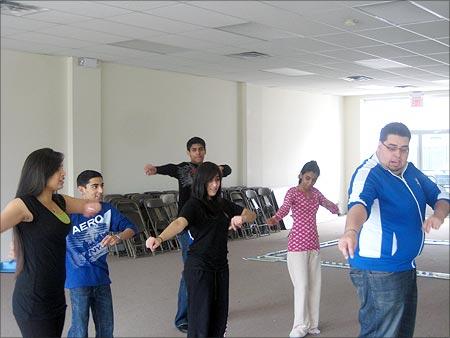 There is a growing number of Americans who are quite taken in by Bollywood, especially its music.
Arun Bhambri, a prize winning choreographer tells Arthur J Pais why this is so, in this special series.
New Yorkers Mark and Lisa Shayen got hooked onto the Bollywood dance craze thanks to their young Indian friends -- and now, when it comes to music and dance, nothing excites them so much as the latest Indian import.
'It seems to make sense when they break into song and dance, like Fred Astaire and Ginger Rogers would do the same thing,' Mark Shayen said. Lisa added: 'It is fantasy and escapist, the colours are very vibrant, the movements are very sensuous. And it's very passionate.'
The subdued sensuality of Bollywood moves is an added attraction. Says Mark, 'They never kiss, but I swear you think you saw a whole sex scene.'
Arun Bhambri, a student at Montclair State University and a prize-winning choreographer, reckons he knows why so many Americans, including his schoolmates, are drawn to Bollywood-style song and dance.
"Bollywood dancing brings a variety of things into a performance," says Bhambri, who trains young desk kids compete at the Naya Andaz annual event, where his team won the second prize in the junior category at the most recent edition.
"The performers tend to wear flashy costumes that draw a lot of people to it," he says. "There are always multiple things happening at once in a Bollywood segment. But the most important thing that Bollywood dances bring is the music, which tends to be very upbeat and makes everyone just want to start dancing."
When desi kids show off their moves, their American friends tend to be intrigued, fascinated and even challenged by the genre, Bhambri says. His team, from the Satrangi School of Fusion run by Rohit Baxi, is hooked by the new techniques.
A song such as Pyar Zindagi Hai is an example of how a vintage number is choreographed to appeal to new sensibilities. "In this piece that I assisted in choreographing, we brought in a new type of dance form on stage, Twist and Jive," he says. "The kids wore costumes that represented the 60s and had the poof type of hair style."
Like many desi kids, Bhambri got interested in Bollywood dancing when he was very young. After the movie Dil to Pagal Hai, he decided he wanted to experiment with this genre, though he had no formal training.

"I used to watch Bollywood movies and come up with dance steps. For all family occasions, from birthday parties to weddings, I would choreograph group dances for my cousins and friends. My senior year of high school, I choreographed a 17-person dance in a ten minute Bollywood medley, and while working with Satrangi students, I  incorporated Bollywood techniques I've witnessed and observed, and took the team to another level."
Rohit Baxi, director of the school, later taught Bhambri technique, dance genres and the importance of high-scale production. 
It helps that Bollywood dances incorporate a bit of everything. In a recent ABC TV segment on the growing popularity of Bollywood dancing, a young American girl says, 'Bollywood incorporates everything -- it has salsa in it, it has basic classical Indian, it started out with a lot of that -- and then has become techno, pop -- anything you want, it's probably in there.'
How about the Indian traditional dances? the reporter asks. 'Anything like this, when you are keeping the beat with your hip, that's a very Indian step, you'll see that in a lot of folk dances,' she says, showing off a few moves. 'You'll see a lot of spins, the really fast spins come from Kathak in North India; South Indian spins tend to be a lot slower, with much more footwork.'
The Bollywood craze has been growing exponentially on school campuses across the United States, with many schools boasting of their own fusion teams, and competing with other schools.
Their activities have spurred mainstream American interest. "This I think is an excellent way of spreading cultures," Bhambri says. "Certain high scale Bollywood songs portray a message, and many college students do a phenomenal job of spreading the message of Indian culture.
"A lot of my friends who are non-Indian tend to listen to Bollywood music because they are always around me. Some of them have gone to the extent of learning the words to the songs, and singing along with me. Also in the multicultural shows that occur in many of the campuses, many of the other cultures are mixing in Bollywood with their traditional songs and dances."