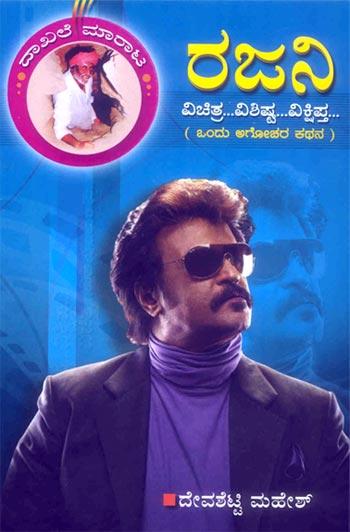 In a path breaking experiment, Karnataka's leading audio company, Lahari Audio, is coming out with a book on Tamil super star Rajnikanth in CD and audio cassette format.
The book Vikshiptha, Vishishta, Vichitra written by journalist Mahesh Devashetty documents the struggles of the actor before he attained superstardom. The book was released three years ago during the release of Rajnikanth's movie Sivaji. The book contains a number of articles that had appeared in Kannada's leading daily Vijaya Karnataka, when Mahesh Devashetty was working as a senior sub editor.
Lahari's Manohar Naidu and his brother Velu plan to come out with more audio albums based on the books. "The first attempt is Rajnikanth's book. Many people who were not able to read the book will now be able to know the contents of the book. It will also interest the large number of Rajnikanth fans who cannot read the book in Kannada," Velu said.
Mahesh Devashetty who wrote the book said that he did extensive research on Rajni's life and interviewed many people in Karnataka who were his associates during his struggling days like Raj Bahaddur, a BTS bus driver who was Rajnikanth's colleague when the actor was a bus conductor in Bangalore, and well known associate director Raghu Nandan.
"There are many people who helped Rajnikanth realise his ambition to be an actor. The book also brings out the mysteries behind Rajnikanth's persona and his exciting journey to the film industry. I am glad that now his fans can listen to his unusual story," Devashetty added.
Text: R G Vijayasarathy