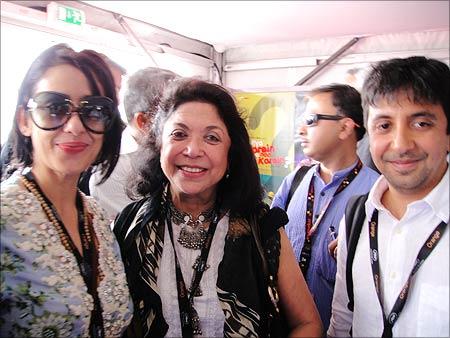 Ashvin Kumar, son of noted fashion designer Ritu Kumar, turned feature film director with The Forest. Based on saving nature, the film has been showcased at the ongoing Cannes Film Festival. His earlier short film The Terrorist bagged an Oscar nomination.
Ashvin, seen here with Manisha Koirala and mom Ritu Kumar, writes in his experiences at Cannes.
Our apartment looks out to the Cot D' Azure the brilliant blue Mediterranean sea, with huge luxury yachts floating all over it. I love the weather in Cannes! It's great to be back here after an absence of two years. And we have a film in the market -- even better!
It's my parents' first time in Cannes. They were going to be in Europe this week so have come down to check out what it is that I do. A day was spent showing them around, they look stunned. I think they're really soaking in the festive atmosphere and are already talking about coming back next year. It's a good idea, if we get a whole possy of people we can rent a villa outside somewhere and make a week of it.
We went to meet our distributors Non Stop Sales, on the Scandanavian Terrace, where I am poaching their internet connection and writing this from. The India pavilion was inaugurated yesterday. Abhishek Bachchan, Manisha Koirala, Deepti Naval, Bobby and Versha Bedi, Mr Hinduja, Tannishtha Chatterjee attended.
I ran from that to the screening of The Forest. A good attendance. And this morning I was given the good news that we've sold the film to four countries already. It's a great beginning to a Cannes in recession! We're going to announce those sales to the trades here in Cannes (Variety/Screen International) and expect there to be more interest in the film for the second screening.
I got tickets to the red carpet for this evenings film -- kicking around Cannes for four years helps in knowing where to procure these things. We dressed up in bandhgallas and I found myself walking with Freida Pinto. Mom and she got into a conversation and I became the tourist on the red-carpet taking pictures. Her costumes for Slumdog Millionaire are from the Ritu Kumar Label line, and they spoke about that and her new wardrobe.
A wonderful meal followed, fillet minion, meat that good should be eaten every night. And a fabulous bottle of Provencal red. Following that a volley of parties. First the Marche du film party on the Miramar beach, where I met my friend Gueido, a distributor from Argentina. A real eccentric. The party was thinning out by the time we got there. But the Champagne was great. Then a place called Bauli (not in Haryana) where we met up with Manisha Koirala and some friends. Went mental on the dance floor, and called it a night around 2 am -- from which I am still suffering as I write this.
All in all a great start to Cannes.