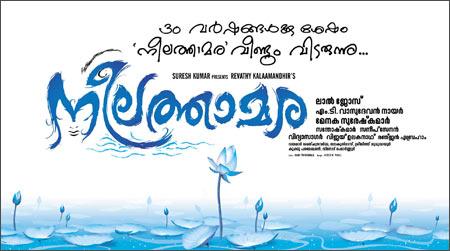 After 30 long years, Neelathamara ( Blue Lotus) is going to bloom again in Kerala.
It could be the beginning of a new trend in Malayalam for sure, as director Lal Jose teams up with producer Suresh Kumar of the banner Revathi Kalamandir, to remake the Jnanapith award winner M T Vasudevan Nair's Neelathamara. With fresh faces in the lead, it is also an attempt to cut the mounting costs.
Neelathamara, scripted by M T Vasudevan Nair and directed by Yusufali Kechery, was released in 1979 with Ravikumar, Sathar and Ambika in the lead. According to M T, the new version will have the required changes though the essence of the story will remain the same.
The cast and crew of the earlier version were present in a function that launched the new one.
The role of Kunjimalu played by Ambika will now be essayed by Archana, a management student who is also an anchor with a Malayalam TV channel. Kalesh plays Haridas, earlier enacted by Ravi Kumar while Ambika's brother Suresh is essaying the role of Appukkuttan, earlier played by Sathar. Rima Kallingal and Samvrutha Sunil are also part of the cast.
Producer Suresh Kumar says that he has seen Neelathamara at least 15 times when it was released. He suggested Lal Jose's name as director to M T Vasudevan Nair, who immediatedly approved it.
Lal Jose feels that it is the greatest appreciation that he has got in his career.
"It's a fantastic feeling to direct a film based on M T Vasudevan Nair's script. I have not seen the original and so for me it's as good as a fresh script. I sincerely believe that with new experiments like these, the current lull phase in Malayalam films will witness some change. I am looking forward to a favourable response from the audience on such new thoughts," says Lal Jose.
The crew consists of cameraman Vijay Ulakanath, editor Ranjan Abraham and music composer Vidyasagar. The shooting of the new Neelathamara is slated for early June.
Text: Meghna George