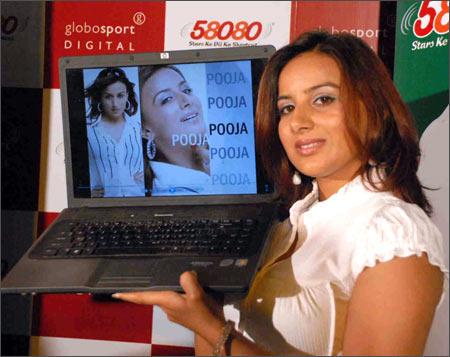 The news of Pooja Gandhi, the most successful Kannada film artist joining hands with tennis star Mahesh Bhupathi to launch her website, may puzzle many.
Actually Mahesh Bhupathi's role starts and ends with his Globosports Company designing the website www.mypoojagandhi.com for the actress.
"This is one of the best things that has happened in my career. I could not have asked for a better partner, as Globosports have taken personnel interest in designing the website. It is really browser friendly and allows me to interact with my fans. I can really expand my relationship with my fans and clear any misconceptions they have on me," says a happy Pooja Gandhi.
The website reveals Pooja Gandhi's background, her tryst with films before she was selected to play the lead in the Kannada blockbuster Mungaru Male, her deep interest in learning Kannada and her experience of dubbing for her Kannada films.
The actress was present along with her sister, actress Radhika Gandhi, her parents and grandparents. 
Text: R G Vijayasarathy