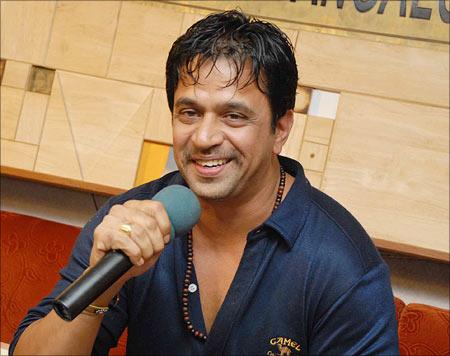 He is known as an action hero by his fans in Tamil Nadu and South Indian Bruce Lee by his Kannada film fans.
Meet Arjun Sarja -- actor, producer, director, stunt director and a music director -- all rolled into one. The multifaceted personality has acted in over 200 films in all the South Indian languages namely Gentleman, Modhalvan, Sevagan, Vaadhyar, Jai Hind and Sree Manjunatha to name a few.
He was also shared screen space with Nana Patekar in the Hindi dubbed version of Bommalattam titled as Cinema Cinema directed by Bharathi Raja.  
The son of Kannada film industry's well known villain Shakthi Prasad got a break in Simhada Mari Sainya, a children's adventure film directed by SV Rajendra Singh Babu.
Presently he has an important role in Arvind's Malayalam film Vandemaatharam which stars Mammootty in the lead.  
In this interview with RG Vijayasarathy, Arjun Sarja reveals his new exciting project in Hindi which he is producing, directing and acting. 
Since you were always known as an action hero in the South, will it be safe to say that this Hindi film you are making will also be an action oriented film?
No, I am not making a full length action film. It is a love story. I wrote the script a year ago and while I was rewriting it, the thought of making the film in Hindi occurred to me.
It is a feel good and tender love story with a bit of thrills. I thought it was better to experiment making a Hindi film rather than making it in Tamil or Telugu where I have already acquired an image.  
Have you selected the cast?
Right now I am working on selecting the artists and technicians for the film. I think the technicians will be mostly from the South. I haven't decided on the music director yet. I would go for an established heroine for the lead role as the characterisation has come out very well.  
When are you starting the film?
Most probably in September. Right now I'm now busy getting permission for the outdoor shoots. I may also go abroad to shoot the songs and a few sequences. 
You have been doing lesser number of Kannada films these days though you originally hail from Bangalore and  had started off in Kannada films as a child artist. Are you acting in a Kannada film this year?
Most probably. I heard the story from a big Kannada producer. The script is getting ready. I may start working on it this year itself. I was supposed to do a historical film Sangolli Raayanna to be directed by Naganna, but the script is not complete yet. 
You have worked as an actor in all the four South Indian languages as well as a producer and director. Which work inspires you the most?
Frankly, I think it is the director's job which gives me more creative satisfaction. It is also more challenging. As an actor my responsibility is restricted to the boundaries of my role. But as a director, my creative input will have an imprint in many segments of film making.
I love the job of a producer too. I had to produce my own film Sevakan during the early nineties when I had lost my market and was practically without offers. I took it up as a challenge and became the producer and director. The efforts were rewarding and I tasted big success with this film.
My second innings as a hero started with this film as well. I understood the importance of planning and budgeting. Now, I am so confident that I can make a film with just Rs 1 crore.
Do you think you will hit the jackpot with your new film?
Success and failures are part of an artist's life. I had delivered major hits and some unbelievable disasters too. One thing that I can tell you with lot of confidence is that I would have put the same efforts in every film. Sometimes our expectations about a particular script or a well intended project may not be met because of many mistakes made during the pre and post production work. I have a Malayalam film Aruvadai and a Tamil film Maasi slated for this year. I am sure that these two films will again bring back me to the reckoning.