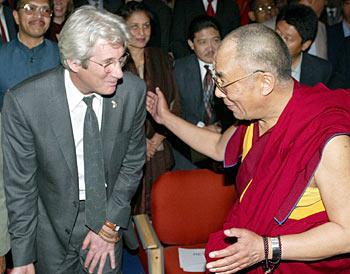 Hollywood star Richard Gere joined thousands of devotees of Tibet's spiritual leader Dalai Lama in Bodh Gaya, Bihar on Wednesday, to participate in a five-day long religious discourse on Buddhism by the Tibetan spiritual leader.
"Richard Gere arrived in Bodh Gaya on Monday evening. Gere is like any ordinary devotee of Dalai Lama," says a senior official associated with the Tibetan monastery in Bodh Gaya.
"You can find him offering prayers at the Mahabodhi temple and listening to religious discourses," says another official.
Gere, famous for his performance in Pretty Woman, Runaway Bride and An Officer and a Gentleman, is considered the Dalai Lama's most high-profile disciple. He regularly visits Dharamsala (headquarters of the Tibetan government-in-exile in Himachal Pradesh).
The 1,500-year-old Mahabodhi temple in Bodh Gaya is the holiest Buddhist shrine. It was built near the spot where Buddha attained enlightenment.
Over 50,000 people from all over the world are expected to assemble at Bodh Gaya's Kalchakra Maidan to hear a discourse by the Dalai Lama. The discourses would be broadcast on FM radio channels in different languages including English and Hindi.
Image: A file picture of Richard Gere and the Dalai Lama in New Delhi.
Photograph: Pawel Kopczynski/Reuters