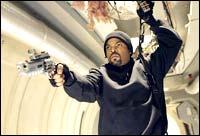 Ice Cube has had a streak of hits over the last two years but xXx: State Of The Union could become his first film to cross the $100 million mark in the United States. It could also be a hit abroad.
If you are not worried about gratuitous violence and an often-mindless plot, it is not difficult to have silly fun with this energetically directed film. But, as it progresses, viewers may get tired of all those car chases, explosions, rooftop jumps and plunging necklines. But xXx fans worldwide, who coughed up over $275 million in movie theatres and over $200 million in DVD sales and ancillary reviews, may not be disappointed with the new film.
| | |
| --- | --- |
| | More on rediff.com! |
| | |
The biggest setback for the film is the lack of a smart script. But Cube's short-tempered act and considerable charm saves it from being a dud. Compared to Van Diesel, the star of the previous film (xXx), Cube is undoubtedly a superior actor. And director Lee Tamahori (Die Another Day) has given the film more polish and dramatic tension than the first.

The covert National Security Agent Augustus Gibbons (Samuel L Jackson), fresh off the success of his last renegade recruitment, once again needs an outsider. Gibbons and his new agent Darius Stone (Ice Cube), codenamed XXX, must track a military splinter group led by the secretary of defence, George Deckert (Willem Dafoe), conspiring to overthrow the moderate American President (Peter Strauss).

Stone may be a renegade but his trouble arose from trying to do the right thing. He had refused to follow an order by a general in Kosovo thinking that it violated the army code.

Augustus runs into trouble when the news that he has busted Stone out of a maximum security prison is leaked out. He is given the pink slip but predictably, he won't be humiliated or punished for doing what he believes to be the right thing.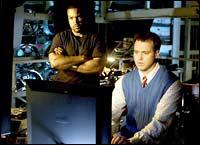 The idea of Stone leading an assault on Washington's own renegades with his motley crew may sound preposterous to some, while others may enjoy the plot precisely because it is out of control.
The script and pained lines such as 'If Deckert takes over, freedom won't be free' are not the only thing wrong with the film. It is shocking to see the number of stiff performances. Among them is the inert work by the very talented Dafoe. At least some of the women in the film, including Stone's old flame Lola (Nora Gaye), have some allure.
Tamahori made such intriguing films as Once Were Warriors in his native New Zealand and went on to direct the suspenseful Along Came The Spider in Hollywood.
Now, he seems content making energetic but empty movie behemoths.