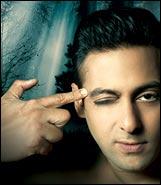 On Sunday, October 30, Salman Khan met the media to promote his new film, Kyon Ki. The film is directed by Priyadarshan and also stars Kareena Kapoor and Rimii Sen. Jewellery maker D'damas is also associated with the film to promote its brand.

While Kareena did not attend, Salman was evidently not in a good mood. His answers to the media seemed quite strange. One could not help but wonder whether the event was organised to promote the film or to insult the media.

Syed Firdaus Ashraf takes on Salman the way he saw the star. 

What is your role in Kyon Ki?

Salman: Same role. I play the same kind of roles all the time.

Our Take: Salman has become overconfident that his films will do well despite what the press writes about him.
Tell us about Priyadarshan's other film, which is releasing on the same day as Kyon Ki?

Salman: Which film is that?

Our Take: Salman feels Priyan's other film Garam Masala may do better than Kyon Ki. After all, that's a comedy, while Kyon Ki is a serious film. Besides, Salman's fans prefer him in comedy roles.

How long you plan to do romantic films?

Salman: Till the time they run. We will see later.

Our Take: Salman turns 40 this December, and he's balding and gaining weight. He may not be able to carry on as the romantic 'young' man for long. 

Kyon Ki is a love story like Tere Naam. What is the difference between the two?

Salman: Tere Naam was directed by Satish Kaushik and Kyon Ki by Priyadarshan. 

Our Take: Thanks for enlightning us on that crucial detail! 

Priyadarshan says your acting is one of the best performances of your career.

Salman: That is shocking news to me.

Our Take: We're shocked too. 

Why should one see Kyon Ki?

Salman: The film has no vulgarity, no exposure and it is a decent film.

Our Take: Finally, an answer that makes sense.

What are you doing this Diwali?
I am going to my house in Panvel. I would like to advice everyone to keep a distance from the bottle when you light a rocket. Also, see that the rocket does not enter anyone's house. Don't burst big bombs like the rassi bomb. Burst the sutli bomb instead. And don't roam barefoot, as you may get burnt. Wear slippers.
Our Take: The only good answer!
How do you feel about the fact that D'damas is associating with Kyon Ki?
Salman: Thank God it was not Nirma soaps.
Our Take: Good bye, Mr Khan.