Too much Democracy can go to your head.
In this case, we're just talking about beer. Anurag Kashyap's engagingly made new political drama, Gulaal, has interestingly named brands of alcohol, including Constitution and Republic.
Gulaal, named after the vermillion powder Rajasthani revolutionaries plan to use as masks, is a compelling watch with some quite superlative performances. Yet it finally emerges just like the story of most of its many protagonists, a tale of unfulfilled potential.
The film is ostensibly the story of young Dilip Kumar Singh (Raj Singh Chaudhary) from Bikaner, a Rajput boy coming to Jaipur to study law. Forced to live in a bar because the hostel is full, he meets the flamboyantly rebellious Rananjay Singh (Abhimanyu Singh), a man who forces him into being more than a doormat. Then we're taken from ugly incidents of hostel ragging to student politics at its most ruthless, and it's a wild yet eventually predictable ride.
What is fun -- as is always the case with Kashyap -- is the detailing. The characters are a constantly quirky, perfectly cast bunch, and each has moments actors would kill for. Mahi Gill, for example, plays a beauty parlour owner called Madhuri who dances the odd mujra in a low-cut blouse. One look around her parlour shows us posters of young Tabu even as the song she chooses to play on her stereo is Vijaypath's Ruk ruk ruk. Gill's resemblance to the senior actress is evident, and Kashyap exaggerates it further till she eventually cries out in anguish, wondering if it isn't enough for her to look like Tabu.
The film is, however, a marked departure for Kashyap in terms of treatment. Sure he still has an utter loser for a hero, but this is a film where the director understates his style and goes for severely gritty filmmaking. Cinematographer Rajeev Ravi goes earthen very well, and all the film's brightness comes from the red gulaal of the title. The rest of the film's palette is muddy, filthy, sweat-stained and pockmark'd. This is a narrative you follow with morbid curiousity, and Kashyap's made sure you can't take your eyes off the proceedings -- even if you may want to.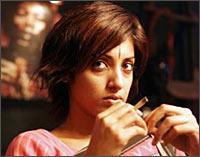 This is a plot-heavy film, and while I won't go into the basics of the story itself, it has to be admitted that while the film accelerates dramatically upto the interval point, Kashyap loses the grip over his plotlines in the second half, and things conclude rather sloppily in the end. It remains a wonderfully watchable political drama, and a very well acted one, but the second half tragically leaves you underwhelmed when it should have taken you to a high.
There is a fundamental problem with the way women are treated in Gulaal's script. Each has a compelling story, and yet each is brushed under the rug with annoying ease, as if to say that the film isn't telling their tale. Jesse Randhawa plays an occasionally feisty teacher who is physically abused as soon as she joins college. But the film suddenly reduces her to a very minor character. The same treatment is meted out to the excellent Mahi Gill.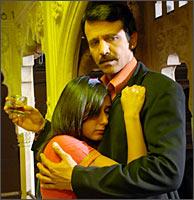 Ayesha Mohan, on the other hand, plays Kiran, a fully-developed golddigger, but her character progression is abrupt and unnerving. Sure, there's an impact in her sudden rise to plot-spotlight, but her increasing influence on the men she deals with in the second half of the film is haphazard and dismissively dealt with. It is writing like this that stretches the plot towards what seems annoyingly like a deux ex machina ending in a film that started off feeling so, so real.
Watch Gulaal for the performances. For Piyush Mishra, the man who has crafted a spectacular soundtrack -- playing a wonderfully deranged character with a Rajput-ised John Lennon around his neck. For Kay Kay Menon, the actor getting a rare role worthy of his range. For Abhimanyu Singh, for his sheer overpowering charisma and his earthy screen presence. And for Deepak Dobriyal, who, just by nodding earnestly and non-committally at a paan stand while he's being poked with questions, shows that he's one of the most interesting actors in the country right now.
Anurag Kashyap has faced seven long years and a tremendously uphill struggle to make Gulaal, and it is heartening to see the stylish auteur throw himself headlong into a project this grounded. He doesn't completely pull it off, but this is a fantastically watchable film that scores high on moments.
As for the end, lets just assume that the director, like Kay Kay Menon's wonderful character, had a bit of a Democracy hangover.
Rediff Rating: