Over the years, Naseeruddin Shah has done varied films, some of them brilliant, and others, not quite. And some of his films have been quite a statement, like Parzania, A Wednesday and his forthcoming film, Firaaq. 
Based on the Gujarat riots, Firaaq marks Nandita Das' directorial debut. It also stars Paresh Rawal, Shahana Goswami, Sanjay Suri, Raghuvir Yadav, Tisca Chopra and Deepti Naval.
Nithya Ramani caught up with Naseer, who shared his Firaaq experience with us. He also spoke about Slumdog Millionaire, what he thought of the Oscars, and his own favourite movies. Excerpts from a conversation:
How was it to be directed by an actor?
You will know when you watch the film. Firaaq is a very accomplished film in every aspect. No actor can give his best performance without the help of the director. I give 99 percent of the credit of all my best performances to my directors and the writers of the scene.
In Firaaq, you will see that we have actors of all kinds -- experienced actors, newcomers and a child. The whole team has performed very well and the credit goes only to the director.
It is always a pleasure to be directed by an actor because they know the scene from the actor's perspective too. That's an advantage. It is not necessary that an actor becomes a successful director but he/she can definitely understand the scene from an actor's perspective. Acting is fun but directing is very stressful. Direction needs 10 times more effort than acting.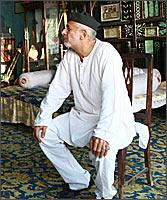 As actors, we know how the scene will play out, and with that, half the battle is won. The rest is up to the actor to personify the character. You don't need to impress people with your acting. That's a mistake many do these days.
It was an emotionally demanding role but there was no pain in shooting. Nandita was very clear about what she wanted.
You have acted in strong films like Firaaq, Parzania and A Wednesday? Do these help you convey your thoughts to the audiences?
Such films should definitely be made. That's why I am part of them.
An actor can never voice his opinion through films. All an actor does is convey what the director and writer want to say. You are a mouthpiece of their ideas. Your ideas reflect only in your choice of movies.
If I happen to sign a film where domestic violence is shown -- a wife being ill-treated by a drunk husband -- then you will know my perspective and views. Similarly, since I am doing films like Firaaq, Parzania and Barah Aaana, you should know what school of thought I come from.
Having done varied roles, what is it that appeals to you while taking up a film?
I go by instinct. Sometimes, I get scripts casting me as the central character but I land up doing a five minute role because I prefer that over the main role. It's pure instinct. I don't think deeply about it. I take five seconds to decide because you know immediately if you want to do the film or not.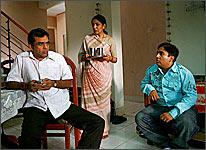 How do people react when you take such a decision?
Astonishment and disappointment. To get a good actor in the central part solves all their problems because directors don't want to learnt about acting. They think of acting as a necessary evil. It is unfortunate that they think so. Actors can contribute as much as a cameraman, if not more.
I do the part I want to do, and it happens. I explain to them that I'd rather do a smaller part that I am happy about rather than a large part that I am unhappy about. I have been good only when I'm happy.
Do you think making films on certain sensitive issues will help the film?
Firaaq is different and far away from cliche and formula films.
Do you think Slumdog Millionaire falls in that category?
Yes. It is the kind of film Manmohan Desai used to make. Where did we get those ideas from? The West. They would make such films in the 1950s and 1960s. We have just taken that idea, modified it and given it back.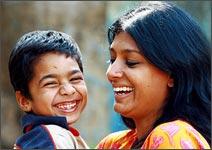 Which Indian film do you think should have made it to the Oscars?
I don't see why we bother our heads with that stupid statuette of a naked man. What is so special about it? Why is the whole nation getting into a lather about it? It's as bogus as our Pan Masala and talcum powder awards. I can understand A R Rahman's and Resul Pookutty's joy. I don't see what we have to get so excited about.
Looking back at your long career, which have been your favourite films?
I have favourites but not because of the quality of work. I'm sentimentally attached to movies like Masoom, Sparsh, Monsoon Wedding, Nishant, Mirza Ghalib, Manthan and Khuda Ke Liye. The list is too long, and the reasons too varied.
Tridev extended my career by 10 years and I am greatful for that. Then Mohra came extended my career by another 10 years. Similarly, Krrish did well. I am waiting for Krrish 2.
Would we see you directing films again?
No. Theatre, yes. But not films.