Aftab Shivdasani has had a string of releases in the last couple of years, but all of them bombed at the box office. His last proper hit was way back in 2004, in Masti. But the actor is not deterred, and hopes that his upcoming film Aloo Chaat will change all that.
Directed by Robby Grewal, who had made the Sushmita Sen-starrer Samay, the film also stars television actress Aamna Sheriff and Kabul Express heroine Linda Arsenio.
Aftab tells Patcy N more about this film, and why he loves doing comedies.
What is Aloo Chaat about?
The film is about a middle-class, conservative Punjabi family, based in Delhi. I play a guy, who comes back from the US to get married. He has preconcieved notions about how he wants to get married, as opposed to his simple parents. So there is a clash of thoughts.
The title Aloo Chaat is symbolic, as chaat has four or five spicy ingredients, just like the film.
What made you take up this project?
I really liked the director's vision. After a long time, I heard a simple, entertaining and unadulterated story, which we need today, with so many unfortunate incidents happening.
What is Robby Grewal like as a director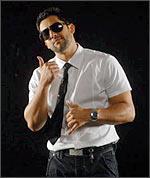 ?
We're almost the same age. He has a great vision and knows what he wants. It was a very difficult film from a director's perspective, as he had to take care of consistency, characterisation and other details.
Robby has done a great job. He's a Punjabi-born and raised in Delhi, so he could do justice to the characters. He knew the intricacies of how a Punjabi family thinks. 
Robby hasn't had a hit in his career yet. Weren't you apprehensive before signing his next film?
Not really. When I met him, I connected with him. We clicked together. I have to respect my director. Robby is not success driven but he gets motivated by the script. He is very passionate about his work. That's why his past record did not bother me much.
It is Aamna Shariff's first film. How was the experience of working with her?
Aamna is very confident about what she does. She is a good and hardworking actor. When you work with somebody like that, you get inspired automatically. We share a great working relationship. I cherish her, and look forward to working with again.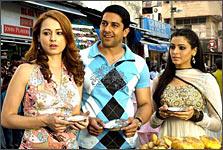 You are doing a lot of comedies. Is that a conscious effort?
I would love to do films in other genres too. But I love comedies as an actor. It's entertaining for me too. I would like to do two-three comedies a year.
But at the same time, I don't want to limit myself. This year, my film action film with Sanjay Gupta, called Acid Factory, will release. I have an intense role in it, something like Kasoor. So I am doing other kinds of films.
Your movies haven't been doing well off late.
Yes. But then, I have survived in this industry for so long and people still love me. The common man has blessed me. People within the industry have a lot of faith in me, and I'm fortunate about that. I hope I live up to everybody's expectations.
What are your forthcoming films?
I am doing Indra Kumar's Daddy Cool, Sajid Nadiadwala's Kambahkt Ishq, besides Acid Factory.  Plus, I have a production house called Rising Sun Entertainment, for which work will start after Aloo Chaat releases.