The name Surinder Kapoor may not immediately ring a bell. But besides producing films, this Kapoor has produced a great family as well. His sons Boney, Anil and Sanjay have achieved various degrees of success in the film industry. His granddaughter Sonam is one of the hottest young actresses today.
But the 82-year-old Kapoor seems to be oblivious to what his sons and grandchildren are up to. He prefers not to walk down memory lane when he assisted director K Asif in Mughal-e-Azam, starring his cousin Prithviraj Kapoor.
Currently living in the third floor of Anil Kapoor's bungalow with wife Nirmala Devi, Kapoor is a recipient of the prestigious Dadasaheb Phalke award.

"Any award and recognition makes you happy. But if it is the Dadasaheb Phalke award, it's even more encouraging and nice. Boney and Sanjay will come with me for the award function [held in Mumbai on May 4]. Anil cannot come, as he is in the US. I have not prepared a speech; I don't believe in that," he says.

He talks to Patcy N about life thus far:
 
Early days
I came to Mumbai in 1950. I was 27 years old then. I am from Peshawar. When I told my cousin Prithviraj Kapoor that I wanted to come to Mumbai for a job, he asked me to come over.

When I was in Peshawar, I was working in a newspaper called Janta Weekly, which belonged to the Socialist Party. I was their sales representative. But I did not like the job.
When I came to Mumbai, I didn't think I would join films. But Prithviraj was very nice. As soon as I came to Mumbai by Frontier Mail, he took me to K Asif and got me a job as an assistant director on the sets of Mughal-e-Azam.
I knew I could never become a director, as I spent most of the time playing cards. Since the film was in the making for 10 years, I left it mid-way.
 
I had become good friends with Shammi Kapoor and Geeta Bali. It was she who helped me become a producer. I could have made my first production, Jab Se Tumhe Dekha (1963), with Madhubala. But I had told Geeta that if I ever make a film, it would be with her only.
Geeta helped me get financiers. I got a good crew because of her. I cast Pradeep Kumar, who wasn't giving hits any more, and Geeta, who was on the verge of retirement. But my film did not do well. In fact, I could not give a single hit in my entire career but still, financiers and distributors put their money in my projects.

After three-four years in Mumbai, I returned to Peshawar to get married. When I came back to Mumbai, I started living in Sion and later, Chembur. I never had to struggle because I was always working. But I was an unsuccessful producer.
I have worked with many actors like Rajesh Khanna, Dabboo (Randhir Kapoor), Chintu (Rishi Kapoor)... I had fun working with all of them. But I enjoyed working with Dabboo the most. He was very jovial.

These days, I don't meet anyone. I can't travel in my old age. But all my friends of my age group are dead. My closest friend was [director] Shakti Samantha. He died when I was in Delhi.
 
[Filmmaker] Lekh Tandon would visit me when I was living with Boney Kapoor. Now that I'm with Anil, he can't travel this far. But I don't regret anything. I don't think about my past.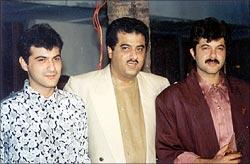 On his star sons
 
When he was 17, Boney told me that he wanted to work in the movies. So I spoke to Shakti Samantha, and Boney started assisting him. Later, when he showed interest in my work, I handed over my work to him and never interfered. I don't know whether he is making good or bad films but he is working. That keeps me happy.

Mona [Boney's first wife] used to stay with me when Boney married Sridevi. But now, my house is under renovation so Mona bought a new house.

Anil had to struggle a bit but today, he is very successful. He is the most successful among all my sons. Sadly, Sanjay never enjoyed success. But he is more educated and intelligent. I am happy with all my sons because they are all working.

My daughter Reena is married to a very good man, Sandeep Marwah. He does not drink or smoke.

On his grandchildren

I saw Sonam in Saawariya, and the promos of Delhi 6. I think she's a better actor than Anil. Sonam hardly came to Boney's house [when I was living there], so I don't know much about childhood.

Boney's son Arjun was studying films in the US. But I don't know what exactly he is studying.

Anil's son Harshvardhan has also gone to Los Angeles -- in fact Anil and his wife are in LA for his admissions. I think he wants to become an actor. He was very fat earlier but now, he has reduced a lot. That's why I think he wants to become an actor now.