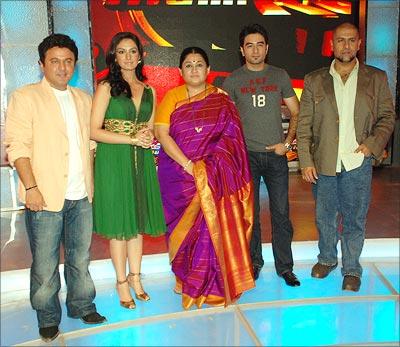 After actresses, item girls, cricketers and what have you, it is mummy's turn to jump into the reality show bandwagon.
The fourth season of Amul Voice of India's musical talent show on Star Plus will see children's mothers joining them on the show. Aptly titled Amul Voice of India -- Mummy Ke Superstars, the show kicked off on Saturday.
Music composer duo Vishal-Shekhar and noted classical singer Shubha Mudgal are the judges of the 13-week show while singer Akriti Kakkar and actor Ali Asgar are the hosts.
Speaking at the launch ceremony, Mudgal said, "I was amazed at the confidence and poise that these children possess. Even while performing, I get butterflies in my stomach, but this wasn't the case with these children."
Dadlani also chimed in, "Initially, I was sceptical about dealing with the children because they are so innocent; they don't really care about the rules. But when I met them during the first show, I found them brilliant. Being with them was so much fun."
As for Akriti, she is quite gung-ho about anchoring this new show. "I took it [the show] up because of the unusual format. Normally, reality shows don't show family members in the forefront, but here the mothers are always there with their children. A strong emotional bond shared between a child and a mother is what makes the show really stand out. I am also very close to my mother therefore I feel a certain connection with the show," she said.
Twelve children between the age group 10-16 years have been chosen from across the nation. The mothers will add to the entertainment value by performing daredevil stunts to justify her love for their children.
Text: Rajul Hegde
In the picture, from left: Ali Asgar, Akriti Kakkar, Shubha Mudgal and Vishal-Shekhar
Watch Amul Voice of India -- Mummy Ke Superstars on Saturdays and Sundays at 9pm on Star Plus.