With back-to-back comedies like Apna Sapna Money Money, Welcome To Sajjanpur and Golmaal Returns, Shreyas Talpade is steadily becoming the king of comedy.
His upcoming film -- David Dhawan's Hook Ya Crook -- is also a comedy. Patcy N spoke to the actor, and asked him about his funny films.
Which are your all-time favourite comedies?
Most of Hrishikesh Mukherjee's films like Chupke Chupke and Golmaal. I can easily connect to the characters, the story, the kind of humour used in the films... They're very simple and yet extremely entertaining. They're all feel-good films.
Even Anand -- the story of a guy who is terminally ill. But he is lively and keeps you entertained throughout the film. That factor is so endearing that you end up liking the film. You can watch these films again and again.
Gulzarsaab's Angoor -- the way he is dealt with double roles, keeping the logic intact. Plus, it had one of the best actors in our country, Sanjeev Kumar. His coming timing was superb.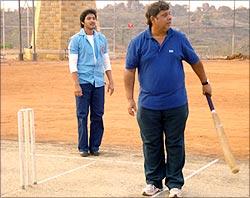 Do you think the comedies that you do will have the repeat value that these old classics have?
Why not? As long as they are good family entertainers, why wouldn't people watch? For example, Golmaal Returns has no plot. The story is pencil thin. But the entertainment was liked by the audiences. Even my wife liked it.
Whether it has repeat value or not, you never know what the next generation might like, looking at the way things are changing, and the pace at which they're changing. Sometimes, I don't know why a certain film worked or why it didn't. Today's youth thinks differently. They don't feel the way I did when I was in college. Golmaal Returns may be a benchmark film for them.
You're doing a lot of comedies. Your new film, Hook Ya Crook will be a comedy again.
You can't call this a complete comedy. It has a lot of emotion, drama and action, even though comedy is an important part of the film. It is not a typical David Dhawan film. It does not have slapstick comedy.
Somewhere, as a director, David felt that he had done over-the-top comedies many times. So he's trying something different now, and wants to portray something else with his sensibilities. It's entertaining but with a lot of drama.
The script for this film is written by Rensil D'Silva [who scripted Rang De Basanti], directed by David Dhawan and produced by UTV. So it's a great combination. Plus, David is working in a film where all the actors will be working with him for the first time.
Thankfully, I am doing different types of comedy. Shyambabu [Benegal] has a very different kind of comedy from other filmmakers. Welcome To Sajjanpur had a very subtle and satirical comedy. Golmaal Returns was more of the over-the-top kind. So even if I am doing many comedies, I try to do different kinds of comedies.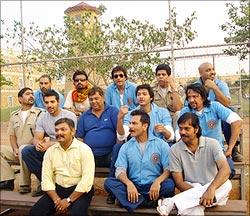 Tell us about Hook Ya Crook.
Hook Ya Crook is a prison film. It's about the lives of the prisoners, their bonding with each other, and their passion for cricket.
My character is called Nepali and I speak Haryanvi in the film. To learn the dialect, I spoke to people from Haryana and got my dialogues rewritten in Haryanvi.
Why cricket?
Cricket is religion in India. Everybody can relate with it, everyone has played cricket at some point in their life. That's why we made Iqbal as well. So we wanted to make a film that people could relate with, and get involved in.
How do you land up in jail here?
This guy is a fraud, always cheating people -- even his own mom and friends. He cheats someone and lands up in jail. He's a fraud in jail as well -- he can arrange anything for the jail inmates, from cigarettes to alcohol.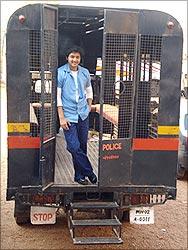 The prison sets look nothing like a real Indian jail.
It's David Dhawan film. It's a fictional film and is entertaining with a lot of masala and style. Plus, there is commercial viability attached to a film, so we want to make it as lavish and stylish as possible. Plus, why can't we have jails and prison uniforms like this? Why should jails always be depressing?
This film doesn't have a depressing jail -- it's a lively and feel-good prison. Maybe after seeing this film, our Indian authorities may feel why can't we have a jail and prison uniforms like this. They may even think of having a cricket pitch like the one we have in Hook Ya Crook.
There are so many actors in this film -- John Abraham, Kay Kay Menon, Krushna Abhishek and Pawan Malhotra. How do you boys spend your free time?
We play cricket. We also play table tennis, and work out together. I call John my guru as far as health and fitness is concerned. I follow his fitness and diet regime. If we look fitter, it's because of John.
Sometimes, Krushna and I mimic actors as well!
What are your forthcoming films?
Mukta Arts' Paying Guest directed by my friend Paritosh Painter will release in April. Then there is UTV's Aage Se Right, Seasons Greeting, Sangeet Sivan's horror film, Click and Reliance Big Pictures' Mirch.