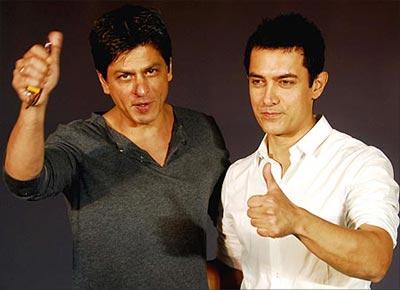 Bollywood's two biggest rivals Aamir Khan and Shah Rukh Khan came together on one platform to support the producers cause in the ongoing strike of the film industry.
The actor duo who have also turned producers had launched a tirade against each other by claiming to be the number one actor in the industry post the success of Ghajini last December.
Asked how they came together on one platform after trying to outdo each other till recently, Shah Rukh said. "This (our fight) a non-issue. I don't think we have a problem in getting together in a car, plane or even in films."
He further said, "We are both intelligent and me little less than Aamir, and we have to respect that. This issue (film strike) is much larger issue. We are not childish."
Post the success of Ghajini, Aamir has been going around toen saying that Lata Mangeshkar never says she is number one nor does Sachin Tendulkar, so what right does Shah Rukh have to claim all the time he is number one in the industry?
When told to comment about their new found friendship, Aamir jokingly said, "Let us take out boxing gloves and fight with each other."
The producers of the film industry have gone on strike from April 4 and have decided not to release any films until multiplex owners agree to a revenue sharing of 50:50.
The multiplex owners have said 'no' to their demands and they have stated they will pay 50:50 only if the film does well and if not they will not share revenue equally.
"We have assembled here to tell audiences why they cannot see any films from Friday. We all want to be profitable in the business and until that does not happen we won't be in healthy position," Aamir said.
The podium saw the who is who of the film industry with veteran producers like Yash Chopra, Ronnie Screwvala, Rakesh Roshan, Sajid Nadiadwala, Ratan Jain, Bhushan Kumar, Ramesh Sippy, Mukesh Bhatt and many others.
"There is a problem in our pipeline. It needs repairing and we are not on strike or embargo. And hopefully, we will repair it," said Shah Rukh.
"We have come with a slogan. Fair rights for Friday nights," added Shah Rukh.
Aamir concluded by stating, "For decades our film industry ran on a simple formula. The distributor got 80 percent and theatre owners got 20 percent. In some cases it was 70 percent for distributors and 30 percent for theatre owners. They all respected the creative mind and creative values of people. We feel that there has to be equality in the deal with multiplexes."
Image: Shah Rukh Khan and Aamir Khan at the press meet in Mumbai. Photograph: Arun Patil