Jhossh directed by veteran director Shivamani, known for his technical skills than his story telling ability, is a real surprise.
The well packaged elements in the script and the neat and innovative narration are quite impressive. The film maintains a good pace fuelling our curiosity at every twist in the story.
Jhossh comes at a time when well wishers of Kannada cinema have almost lost hopes of seeing a fresh and original Kannada film.
While Jhossh will certainly remind the older generation of their college days, it will be eye opener to the younger audience. Jhossh authentically and aesthetically reflects the aspirations, frustrations, adolescence and confusions of the teenagers. Each sequence of the film is written and narrated to show how a student can achieve success if he has a positive frame of mind.
The highlights of Jhossh are its cinematography, music, editing, fight compositions and choreography. Shivamani's efforts to show the film differently has been ably complimented by Santhosh Kumar Pathaaje's camera work. Debutant music director Vardhan has proved to be the best musical talent that has surfaced in the recent times.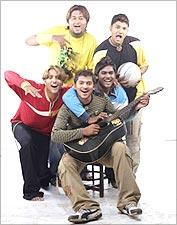 However there are some minor errors which could have been avoided like the ragging sequences could have been a little more refined. Sharan's comedy looks out of place.
Jhossh revolves around a group of friends who are entering pre-university college. Love blossoms between Raakesh and Meena who are classmates from High School. In college, Rakesh loses his interest in studies while Meena is made to understand the importance of education by her parents. Meena distances from Rakesh to concentrate on studies. A dejected Rakesh starts loving another girl and tries to impress her for four years. By the time he realizes that she is not in love with him, it was too late. While all his friends have turned achievers, he is the only one left out. Finally Rakesh decides to reform himself. 
Newcomers Rakesh, Poorna, Nithya, Alok, Akshay, Amit, Robo Ganesh and others have delivered competent performances. Achyutha, Sudha Belawadi, Thulasi Shivamani, Sreenivasa Prabhu, Karibasavayya, Jadhav have done a fantastic job in their respective roles.
Jhossh is a technically brilliant film with absolutely top class performances and good narration. This is film that needs to be encouraged.
Rediff Rating: