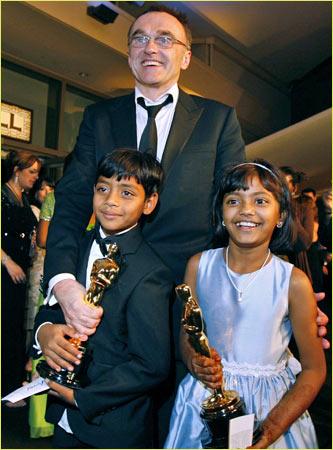 A number of Hollywood celeb parents have expressed their desire to adopt Slumdog Millionaire child star Rubina Ali after her dad tried to sell her, it has emerged.
Rubina's father Rafiq Asghar Ali Qureshi was accused of putting her up for adoption for 200,000 pounds.
Stunned by the news many A-list potential parents are keen to adopt the girl.
'Rubina met a lot of famous faces at the Oscars and several are considering saving her,' the Daily Star quoted a source as saying.
Meanwhile, Rafiq has been arrested over claims that he tried to sell his daughter for 200,000 pounds.
 A complaint from the 36-year-old man's ex-wife initiated the arrest.
Indian cops spent several hours quizzing Qureshi and are now on a prowl to obtain video recordings of the meeting at which the deal was supposedly brokered.
Christian Colson, the producer of Slumdog Millionaire, said: 'Our friends and colleagues in Mumbai are trying to speak with Mr Qureshi to get to the bottom of what happened.'
In the picture: Director Danny Boyle celebrates Oscar win with Mohammed Azharuddin and Rubina Ali.
Text: ANI | Photograph: Reuters