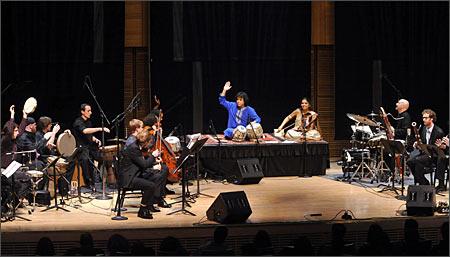 At his concerts, Ustad Zakir Hussain naturally has to be the star attraction. Even when he has performed with other distinguished musicians like cellist Yo Yo Ma and Grateful Dead drummer Mickey Hart, Hussain has got standing ovations.
Hussain, the recipient of the 1999 National Heritage Fellowship, the most prestigious honor in the United States for a master in the traditional arts, is a star in his own right, be it in a solo event or a collaboration with a legend. 
But April 19, he was very much in the background at a special performance at Carnegie Hall in New York -- and for a good reason.
For, the legendary percussionist and composer (films including the Ismail Merchant- directed In Custody) was there to present a younger generation of musicians who also performed when Hussain's wife Antonia Minnecola performed an intricate Kathak item portraying an adolescent Lord Krishna's fight to subdue an underwater demon king.  
There was repeated, lusty applause as a band of 14 played three complex ragas under Hussain's watchful eye. The applause became stronger as the tabla maestro revealed that the performers were under his training just for six days.
The young artists -- who played guitar, tabla, violin, cello and flugelhorn -- had roots from five countries. Most were Americans, but there was also a Sri Lankan, an Indian, a Colombian and a Syrian. Their mission: To offer the instrumental version of a couple of ragas embellished; the musicians also offering improvised playing.
The well-advertised event, labeled the Zakir Hussain Young Artists Concert, was the first of the five concerts featuring Hussain and other musicians to be held in New York (for details www.carnegiehall.org).
'When Hussain takes the stage, he will work with a group of musicians who did not know one another only one week earlier,' wrote Jeff Tamakin in Jazz Times magazine. 'Together, they will play music that did not exist before that evening -- and that is the just way Zakir Hussain wants it.'
Grammy winner Hussain, who is in his late 50s, says that from his very young age, as he began to learn music from his father Ustad Alla Rakha, he has been aware of the beauty of improvisation. His father, famous for the concerts with sitar maestro Ravi Shankar, also composed music for half a dozen films under the name of A R Qureishi in the 1950s.
"I have over the years encouraged dropping the psychological chains holding us back from improvising," Hussain told India in New York. He echoed those thoughts in an interview with Tamakin recently. 'You cannot take a Western classical musician and, in a matter of four or five days, make him into an improviser.' But, Hussain added, 'you can at least give some basic idea of what trail to work -- and how. And that is going to reflect in the performance [at Carnegie Hall]... finding certain ways to open their minds, and their body rhythms, so that they will able to learn to improvise.'      
Hussain and guest faculty -- fusion drummer Steve Smith, violinist Kala Ramnath, santoor maestro Pandit Shivkumar Sharma and Minnecola -- worked with the group for nearly a week. While Smith, Ramanath and Minnecola were part of the event, Sharma stayed in the background but he too received a standing ovation when he came to the dais at the curtains.
The event surely had a special part in Hussain's heart; he has always cherished working with artists from across the globe.
But what was different this evening was that the performers were comparatively young, most were in their mid 20s. The program catered to the individual and professional needs of young artists ages 18 to 35. Called the Professional Training Workshops of The Weill Music Institute at Carnegie Hall, the training provided a special opportunity to explore every aspect of musical life with the leading artists of our time, the organizers said. There are 15 public events as part of the 2008–2009 workshops.
"The weeklong, tuition-free experiences offer a special opportunity for young musicians to explore many aspects of their lives," said Sarah Johnson, director, Weill Music Institute.
At the end of the concert, Hussain said the experiment was yet another life learning experience for him. He enjoyed the workshop tremendously, he said, adding with a chuckle that he got paid for it too.
Earlier in the middle of the rehearsal he had said: 'I am still finding new things about my instrument. And the instrument itself is still developing -- and finding new ways to express itself. It's still a young instrument -- only 300 years old.'