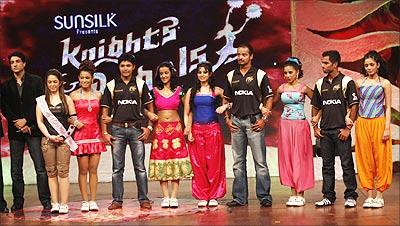 Shah Rukh Khan and Sourab Ganguly personally handpicked the girls, who would cheer for their team Kolkata Knight Riders in the Indian Premier League matches, in NDTV Imagine's Knights & Angels. The six winners, however, never got a chance to actually do their jig in South Africa.
After nine days of an all-expense paid trip to South Africa, the girls -- Ananya Bera, Sanna Chirawawala, Sunanda Hiroo, Rupali Kantharia, Ritika Chibber and Samyukta Surendar -- are back without performing for any match. But they're not complaining.
"We were informed in advance by the production house that we would not be allowed to perform, as the local organisers in South Africa insisted that only South African cheerleaders should be used," says Sunanda, adding, "Shah Rukh Khan was apologetic and felt bad for us. But he said that we will get bigger and better opportunities in future."
The 22-year old girl from Kolkata was disappointed at first but later got excited when she was told of the trip to South Africa to watch the matches. "It was a big opportunity to accompany the team and watch the matches in South Africa," she says. "We were very co-operative with the whole thing. It's not like we were deprived."
Didn't their friends get upset that the girls wouldn't be performing in South Africa? "They were a little upset but after explaining it to them, they were fine with it," Sunanda says.
"I was happy that we got an opportunity to perform during the cricket carnival road show at least," Samyukta, a 19-year old girl from Bengaluru, added. "We drove around in Cape Town in an open bus with the players and owners of Kolkata Knight Riders. We were cheering to our team's theme song, Korbo Lorbo Jitbo re."
The girls are quite happy to watch the matches from the VIP box, along with SRK and his family. "We watched three matches -- KKR was playing in two of those," Samyukta said. "We accompanied the team to the dinner party and interacted with most of the KKR players."
The girls got to go sightseeing and do some shopping in South Africa as well.
In the picture: Shaimak Davar, Sunanda Hiroo, Ananya Bera, Munish Parmar, Sanna Chirawawala, Ritika Chibber, Murali Karthik, Rupali Kantharia, Shatrunjay Gaikwad and Samyukta Surendar.