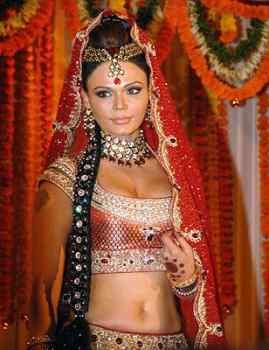 Rakhi Sawant will not get married on the finale of Rakhi ka Swayamvar this Sunday on NDTV Imagine. Rakhi lets the cat out of the bag, but tells rediff.com's Rajul Hegde that there is big surprise in store for the viewers.
Are you getting married in the finale?
I am choosing my bridegroom and getting engaged on Sunday, but will not get married.
The format of the show was for Rakhi Ka Swayamvar.  Don't you think it's against the concept and the expectations you have built up?
I don't think so. Swayamvar means choosing your life partner and that's what I will do.  Engagement is like half getting married. All the three prospective grooms have requested me for 6-12 months time to be financially independent -- buy a car, house and give me the kind of lifestyle I am used to. They don't want to be called another Abhishek Awasti. Abhishek mere ghar pe hi reh raha tha (Abhishek was living at my house). It is better to understand each other rather than hastily get married and then get divorced.
How was your experience in the show?
It was a mind blowing and beautiful experience. I am lucky to have officially dated 16 grooms in this short span, beating the record of even Madonna, who dated and married only 7 men (smiles).
Do you think that the tasks were enough to gauge your partner for life?
No. The tasks were the channel's choice; I was choosing a man with honesty. I have seen many people in Mumbai who don't have a penny in the pocket but show off. Here I felt that all the grooms were honest, genuine and caring. So I feel lucky to be part of the Swayamavar.
Do any of the grooms have a clue about being the chosen one?
No. All of them have kept their fingers crossed and are eagerly waiting, along with their family members, for D-day.
Can you give one name for whom you have a soft corner?
I cannot, but I will give two names: Manas Katyal (Delhi) and Elesh Parujanwala (Canada based Non-Resident Indian).
What about Chitiz Jain?
He has already told me that he doesn't love me.
Are you going to live with your fiancé after the engagement?
No, we are going to live separate. They are from cultured families.
If at all you marry the chosen groom, will you shift base?
No. My first love is my Karam Bhoomi - Mumbai and God, second is work, and third my marriage. Of course I will travel to my in-laws' place as and when it is required.
How is the engagement going to be?
It's going to be grand event in traditional style, with garland exchange on national television, the grand swayamvar.