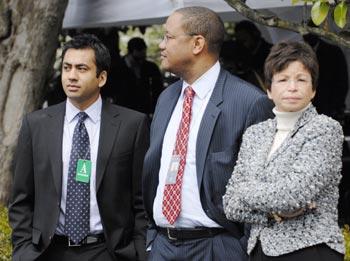 So we told you earlier this month that famed Indian-American actor Kal Penn, real name Kalpen Modi, had officially begun work in the Barack Obama-led White House.
We know his official title is Associate Director, White House Office of Public Engagement. But what exactly is he doing there?
The word in American Desi circles is that Penn will be serving as the administration's link with the Asian American and Pacific Islander community in an effort to encourage participation in President Obama's ambitious United We Serve plan. United We Serve is a call to service challenging Americans to engage in 'sustained, meaningful' community service.
He recently sent out a mass e-mail to leaders in the community, intimating the same. And then last week he reportedly hosted a conference call to present the campaign to Indian-American and other Asian community leaders. One report said he performed 'quite professionally'.
Wow, Penn really seems to be proving the doubters wrong. There was a lot of speculation that, as a celebrity, that too a goofy one known for starring in marijuana-fuelled films, Penn was going to serve as little more than a figurehead.
But judging by the serious with which he's approached these initial few weeks at work, that's not the case.
You can read all about Kal Penn's work in the White House by following him on Twitter.
Image: Actor Kal Penn (left) joins fellow White House staff members Chief of Staff to the Assistant to the President for Intergovernmental Relations and Public Liaison Michael Strautmanis and Senior Advisor to the President Valerie Jarratt on the South Lawn as they watch the annual Easter Egg Roll at the White House in Washington. (Photograph: Jonathan Ernst/Reuters)