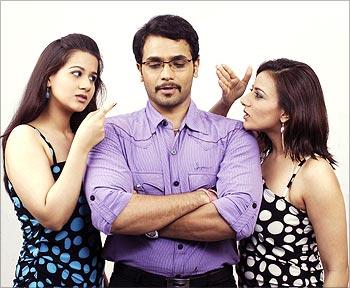 For the first time sisters Pooja and Radhika Gandhi are acting together in a film. The Kannada film is Sree Hari directed by Dayal Padmanabhan, who describes it as a believable comical thriller. The movie also stars Sree Murali.
Pooja is playing a role with negative shades for the first time. "Yes, I am playing a negative role in the film. I accepted the role because it was an exciting script. I did not know then that my sister Radhika would also be in the film. He [Dayal] then came up with the idea of including Radhika. She plays Sree Murali's wife, a very good character," Pooja adds.
Radhika is thrilled at the prospect of working with her elder sister. She had acted in two Kannada films -- Chikkamagaloora Chikka Mallige and Kalaakar so far, but both these films failed to make any impact.
Radhika plays the role of a Vedic Science Research Scholar from the Singapore University. "Dayal sir told me that my role needs lot of effort. I am prepared to work hard. I would like to take a few acting tips from my sister," says Radhika.
As for Sree Murali, he says he plays a soft character. "As I was always doing action films, I was a little hesitant when Dayal narrated the story. Dayal wanted me to wear glasses and these things made me anxious. But my brother Vijaya Raghavendra told me to do such soft roles as it would be challenging for an action hero to do such sentimental stuff," says Sree Murali.
Text: R G Vijayasarathy