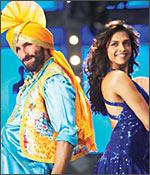 Love Aaj Kal stormed the desi box office in North America and the United Kingdom, grossing over $2 million last weekend and became the first Bollywood superhit of the year. With the $1.2 million opening in North America, the romantic comedy is on its way to becoming the biggest hit for Saif Ali Khan.

Exhibitors in the US say they are amazed that a film with Saif could be a huge draw. The initial prediction was for a $1 million run (total) in North America. But as the film's release approached, the buzz kept growing.
The music (Pritam) also caught on. Many theatres have reported repeat business. It is a big movie for desi date crowds, exhibitors say. 
With Luck doing dismal business because of bad mouth of word, audiences were waiting for a light-hearted film that could tug the heart strings, they add.
"People are not in a mood to see a film just because it is glossy and slick," said one distributor. "Even young audiences are old-fashioned. They want to see a romantic film that has emotional weight."
The bad publicity for Luck led to its collapse on the second day of the weekend, and the film drowned with just about $225,000 grossed on both sides of the Atlantic.

Love Aaj Kal, directed by Imitaz Ali, was released by Eros on 106 screens in North America, a record for a Saif film. It is the third film for the director whose Jab We Met was a big hit two years ago. His first Socha Na Tha received good reviews but did not fire up the box office.
The new film is poised to make more money in the lucrative American and British territories than the much hyped Kambakkht Ishq, which at its $12 million (estimated) budget was a far more expensive film. The Akshay Kumar film ended its run in the two territories with a good but not extraordinary $2.7 million.

Even if Love Aaj Kal plummets by 50 percent in the coming, as it happens with most Bollywood films showing abroad, its box office will be something to be envied for a long time. The much awaited Kaminey, which is being released August 14, would eat into Love Aaj Kal but its distributors are already glowing with box office smiles.