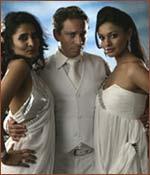 You cannot ignore the billboards for Bollywood Hero in any big American or Canadian city. The low budget television series has gained a lot of buzz, thanks to the huge success the Oscar winning Slumdog Millionaire has had in North America (and the rest of the world). You see ads for the films on the sides of the city buses, at subway stops and at busy interactions.
'It's a fish-out-of-water show,' Chris Kattan, who plays a washed out Hollywood actor seeking artistic salvation in Bollywood, said in a recent interview. Bollywood Hero also features Neha Dhupia and Pooja Kumar. 
Kattan, who is well-known for his work in the TV comedy phenomenon Saturday Night Live some six years ago, says of his new film: 'It's human-based. It's grounded. It's about real people, but it's obviously going to be funny. It's not a slapstick sitcom kind of a show, and that's what appealed to me the most. It was…it's like a Curb Your Enthusiasm, I would say. It has a great story, as opposed to a lot of television now. It has strong cast and situations, but this has a strong cast as well as a great storyline to it.'
The failed Hollywood actor in Bollywood Hero signs on for a Bollywood musical whose title is Peculiar Dancing Boy.' Its  producer describes it as a serious critique of imperialism and the caste system told through the lens of cinema.'
Bollywood Hero, which is promoted as a Bollywood musical miniseries, will be aired on the highly regarded IFC  (Independent Film Channel) August 6-8. The producers of the film say that their film was in the works even before Slumdog Millionaire began building buzz.
The producers are also creating an awareness for Project Crayons, which helps educate impoverished children and whose Mumbai branch invited the film unit to shoot at one of their locations, through a campaign connected to the TV series.
Creating its own buzz for the series, IFC -- which is known for producing and distributing offbeat art-house hits from across the world -- showed a dozen diverse Bollywood films on its channel. Called Wake Up to Bollywood, the festival aired through July included small budget films such as Bheja Fry, medium range movies such as Johnny Gaddaar and Jab We Met, and the blockbusters like Welcome, Singh is Kinng and Ghajini.
Kattan plays an exaggerated version of himself in the fictional comedy. He is the man whose ego has convinced him that he could be a star. He grew up loving Indiana Jones as a child and loved to dress up. But when we meet him in the film he is  tired of being rejected as leading man in Hollywood. His situation worsens when he burns his professional bridges in L.A when he refuses to play a space goat and wants a more substantial role.
That leads him to a very unlikely choice, searching for a starring role in a Bollywood film. After a chance meeting with Indian filmmaker Monty Reddy, he heads to Mumbai to play lead role in Peculiar Dancing Boy.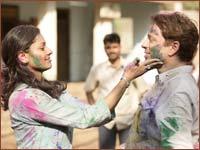 'Fresh off the plane, Chris gets fired his first day on set and flung into a world of sibling rivalry, power hungry starlets,' Kattan describes his role, 'and their astrologers, and a film that is not quite fully financed.'
Neha plays India's biggest star in the film and Pooja Kumar, the producer of the film starring Kattan.
More complications are to come: He gets wrong kind of publicity when he finds himself in his own 'Richard Gere' style kissing scandal.
The producers of the film note that Chris has to 'trawl the backwaters of India for his leading lady, birth a goat and fight for his independence when he is hoodwinked by a wily Indian grandmother who, not speaking a word of English, mistakes him for her new dishwashing boy.'
Ted Skillman, who was also a director of the mini-series, told The New York Times: 'We'd always thought of this as a fish-out-of-water story about an American who has no sense that Bollywood has its own priorities and its own celebrities who are, in terms of audience, the biggest stars in the world. We wanted it to be about how Bollywood and Hollywood, even with all their cultural differences, are really looking-glass versions of each other.'
Bollywood Hero is carefully calibrated not to mock Bollywood, the producers insist. The film explores the cultural differences and concomitant confusion, its makers say, adding that it definitely does not offer humour derived from meanness. So don't expect a Borat or a Bruno. It could be as gentle as Lost in Translation with the cultural clashes and misunderstandings being never nasty.
Chris Kattan, who is the executive producer of the film,  assures the viewers that he too went into the production hoping for a wholesome comedy that offers good playing space for American and Indian artists including Pooja Kumar, a well-known name in the Indian independent film scene in America. Her American films include Hiding Divya with Madhur Jaffrey.
The other lead artists in the film are Maya Rudolph (the current indie hit, Away We Go) and Julian Sands (TV series 24, movies including Lady Killer).
Longinus Fernandes, now famous for choreographing the Jai Ho sensation in Slumdog Millionaire, has five dance numbers credited to him. Making guest appearances are Keanu Reeves and Jennifer Cooldige (American Pie).
Journalists ask Kattan what made him play an exaggerated version of himself? 'My favourite kind of comedy was like Albert Brooks... you know, the old Albert, like Lost in America or Modern Romance... or Charles Grodin in Heartbreak Kid,' he said. 'I identify with that kind of humour that's real. It's narcissistic a little bit, but it's entertaining and lovable. And I think not doing characters on SNL as often and doing more other roles that take go back to humanity and stuff, you feel confident to do something like this. That always appealed to me, that kind of aspect of comedy not being surface and funny and jokey, but... well, it will still be funny, and we have great writers, and everybody is a funny person. Everybody around there will ultimately be funny.
'I want to be a romantic person (in the film),' he offers. 'I believe I can be that person. Not in real life. I already understand that's probably not going to happen, but I have that sense of humour of knowing that. And having that kind of an ego, thinking I have that ego as a character and going to Bollywood and making that happen, I end up becoming a hero in my life as a person, as a character.'
Bollywood Hero, which would be released in many countries as a feature film, is among the dozen foreign films shot in India in the last three years. But unlike films such as Darjeeling Limited, this one is a TV series. And if it lives up to its buzz, it would be seen by many more than the ones who flocked to Darjeeling Limited.
Bollywood Hero was shot in India for nearly three months, most of it in Mumbai, and the producers used the crew that had worked on Slumdog.
Kattan, who helped write the script, had been to India on vacation several years ago but this was the first time he was working in the country. He knew little about the Indian movie industry, particularly Bollywood, he has confessed but he has returned from India with admiration for the chaotic world of Bollywood.
Now he hopes that his film will win millions of admirers, who will see a different kind of exaggerated reality than the one in Slumdog Millionaire.