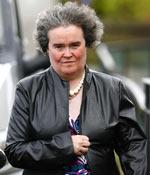 Britain's Got Talent's unique finding Susan Boyle is about to feature on the cover of a prestigious magazine in the US after a sensational makeover.
The 48-year-old will appear on the cover of posh mag Harper's Bazaar.
Boyle now joins an elite group of beauties including Victoria Beckham, 35, Lindsay Lohan, 23, Angelina Jolie, 34, Leona Lewis, 24, Kate Winslet, 33, and Demi Moore, 46, who have graced the magazine.
The Scottish singing sensation has been given an amazing new glam look for the mag, which will be out in the UK next week.
Experts whisked her off to a country house in Buckinghamshire where in one stunning black-and-white shot she is pictured in a Princess Diana-style hands-under-the-face pose.
And in another she looks like Hollywood icon Audrey Hepburn.
'It really made me feel like a Hollywood actress. I had my hair done up,' the Daily Star quoted Boyle as saying.