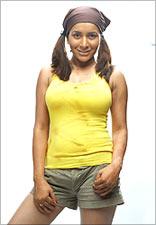 Palak aka Gurmet Kaur, who called herself a fighter and claimed to survive in the jungle has been eliminated from Iss Jungle Se Mujhe Bachao last week.
Unlike other contestants before her, however, Palak has no regrets that she is out of Iss Jungle Se. "I wasn't happy with the quantity of food. I was dying of hunger. Sometimes I had to sleep on an almost empty stomach. Main frustrate ho gayi hi...kyunki food is a very important for our body aur soya bean -- chawal khaake halat kharab ho rahi thi. I know it was part and parcel of the game show but it was very difficult for me to starve. I would also admit that I am really scared of insects and snakes. I was waiting to get out of the jungle when I decided to leave the maha task incomplete. But I enjoyed my stay in the jungle."
Palak has already started shooting for a Telugu film in Hyderabad and looking forward for more work in the industry.
But she does miss her new friends Akashdeep Saighal, Mona Vasu and Negar Khan. "I really had some special moments with them on the show and will definitely stay in touch with them," she said.
Palak also bonded with Fiza. "I won't say that Fizaji and I are good friends; it's just that we shared a great relationship though she was twice my age. After coming out I haven't met her and don't see that happening in the near future," she added.
Talking about the sexy Negar Khan who wore a bikini on the show, she said, "I don't know what was the controversy surrounding her but I think she's an innocent girl. She gifted me five bracelets on my birthday. Negar expressed her desire to come to India and also visit me if at all she gets a visa again."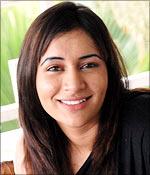 About her memorable moment in the jungle, Palak said, "I was impressed with the way my birthday was celebrated in the camp. Aakash gifted me chappals and Marc a blanket that was stolen from jannat, and I got few paintings from others. So my surprise birthday celebration was the best and most memorable.
"Staying in the jungle for three weeks was a big achievement in itself. I enjoyed my stay because it was a very different experience altogether. People got to see the real Palak unlike my first reality show (Roadies 5.0, a reality show on MTV). I don't think I would have been able to push myself for few more days. Though I would have loved to be with Mika Singh (who entered after Palak left) in the jungle and know him as a person. I would have bonded very well with him because of the Punjabi connection," she said.
 
Palak feels Roadies 5.0 ruined her image and was the worst experience of her life. "I don't have any fond memories of Roadies and I am not in touch with any of the contestants. I was asked to be bitchy on the show and because of the abusive language viewers hated me. I don't blame them because they have judged me only after watching the show. I do not want to work with Raghu Ram (producer of Roadies and SpiltsVilla) in future," she said.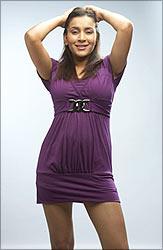 On Iss Jungle Se, Palak was seen gossiping with co-contestant Fiza over Shweta Tiwari's image and clothes in Bhojpuri films. "I don't have anything against her. Shwetaji was telling everyone in the jungle that she is Bharat ki bahu (iss desh ki bahu). So I told Fizaji if she is Bharat ki bahu then why is she wearing a bikini while bathing? She left the show because she was missing her daughter. There is nothing unprofessional about it and I respect her decision."
Quiz Palak on the winners who will survive and she lists Mika Singh and Akashdeep's names. "They are tough and have it in them," she said.

Recently there was an allegation on SplitsVilla 2 that unit members would often ask the girl contestants for favours. Asked if she ever faced a similar problem on her show and she replied, "I have not faced any such problem but if contestants have complained about it, then it may be true."